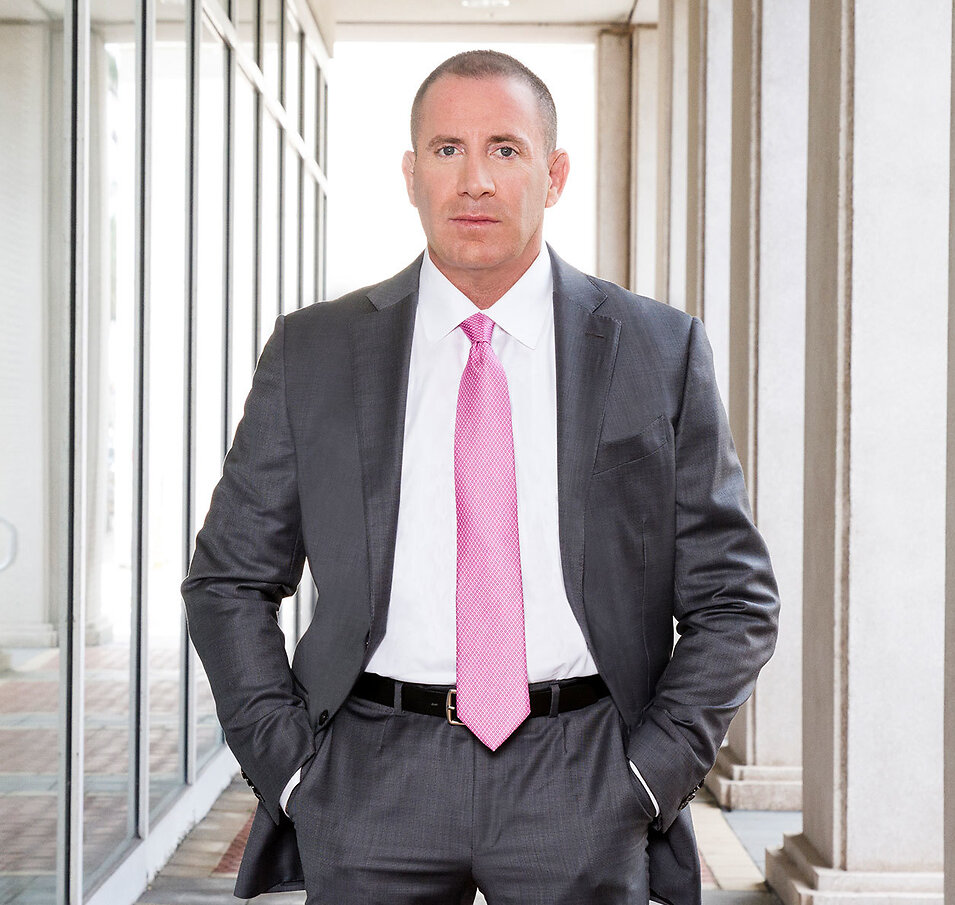 Paul J. Geller
Partner
Email
PDF
Paul's dedication and passion in protecting the rights of his clients is truly inspiring.

Robert Bertisch, Executive Director, Legal Aid Society of Palm Beach County
Overview
Paul Geller, managing partner of Robbins Geller Rudman & Dowd LLP's Boca Raton, Florida office, is a founding partner of the Firm, a member of its Executive and Management Committees and head of the Firm's Consumer Practice Group. Geller's 25 years of litigation experience is broad, and he has handled cases in each of the Firm's practice areas. Notably, before devoting his practice to the representation of consumers and investors, he defended companies in high-stakes class action litigation, providing him an invaluable perspective. Geller has tried bench and jury trials on both the plaintiffs' and defendants' sides, and has argued before numerous state, federal and appellate courts throughout the country.
Geller was recently selected to serve in a leadership position on behalf of governmental entities and other plaintiffs in the sprawling litigation concerning the nationwide prescription opioid epidemic. In reporting on the selection of the lawyers to lead the case, The National Law Journal reported that "[t]he team reads like a 'Who's Who' in mass torts." Geller was also part of the leadership team representing consumers in the massive Volkswagen "Clean Diesel" Emissions case. The San Francisco legal newspaper The Recorder labeled the group that was appointed in that case, which settled for more than $17 billion, a "class action dream team."
Geller is also currently serving as Co-Lead Counsel in In re EpiPen (Epinephrine Injection, USP) Mktg., Sales Practices & Antitrust Litig., a nationwide class action that alleges that pharmaceutical company Mylan N.V. and others engaged in anticompetitive and unfair business conduct in its sale and marketing of the EpiPen Auto-Injector device.
Some of Geller's other recent noteworthy successes include a $265 million recovery against Massey Energy in In re Massey Energy Co. Sec. Litig., in which Massey was found accountable for a tragic explosion at the Upper Big Branch mine in Raleigh County, West Virginia. Geller also secured a $146.25 million recovery against Duke Energy in Nieman v. Duke Energy Corp., the largest recovery in North Carolina for a case involving securities fraud, and one of the five largest recoveries in the Fourth Circuit.
Additionally, Geller was lead counsel in Kehoe v. Fidelity Fed. Bank & Trust, one of the country's first cases alleging a class-wide privacy violation, settling the case for a $50 million recovery in addition to enhanced privacy protections. More recently, he was one of the lead counsel in the Sony Gaming Networks Data Breach litigation, which resulted in significant monetary recovery and other benefits to class members.
Geller serves on the Advisory Board of Emory University School of Law and the separate Board of The Institute for Complex Litigation and Mass Claims at Emory. Additionally, he is a member of the Board of Advisors for The Center on Civil Justice at the New York University School of Law. In these roles and others, Geller frequently lectures on class action and MDL issues at judicial seminars, bar conferences, and academic programs. Geller is a member of the faculty of the inaugural Mass Torts MDL Certificate Program at the Bolch Judicial Institute of Duke Law School (March 2019). Other presentations include The Duke Law Center for Judicial Studies' Class Action Settlement Conference ("Compensation of Objectors," San Diego, California; October 2016), and the Emory Institute's Complex Settlements Conference co-sponsored by the Federal Judicial Center and the JPML ("Fairness Determinations: Pitfalls and Challenges in Class Settlement," Atlanta, Georgia; December 2016).
Geller has been rated AV by Martindale-Hubbell (the highest rating available), twice named one of the nation's top "40 Under 40" by The National Law Journal, and has been named one of "Florida's Top Lawyers" by Law & Politics and South Florida Business Journal. He has also been named a Leading Lawyer in America by Lawdragon, a Plaintiffs' Lawyer Trailblazer by The National Law Journal, one of Florida's "Legal Elite" by Florida Trend magazine, and one of "Florida's Most Effective Lawyers" by American Law Media's Daily Business Review. Additionally, Best Lawyers® named Geller a Best Lawyer in America in the area of "Mass Tort Litigation/Class Actions – Plaintiffs," and he was additionally chosen as Lawyer of the Year in that same category. Super Lawyers Magazine has also named Geller a Florida Super Lawyer for 12 consecutive years.
Geller earned his Bachelor of Science degree in Psychology from the University of Florida, where he was a member of the University Honors Program. He earned his Juris Doctor degree from Emory University School of Law, with Highest Distinction, where he was an editor of the Emory Law Journal, a member of the Order of the Coif Legal Honor Society and was awarded multiple American Jurisprudence Book Awards for earning the highest grade in class.
Awards
Individual Awards:
Rated AV by Martindale-Hubbell

Fellow, Litigation Counsel of America (LCA) Proven Trial Lawyers

Best Lawyer in America, Best Lawyers®, 2017-2019
Named a Florida Super Lawyer, Super Lawyers magazine, 2007-2018
Plaintiffs' Lawyer Trailblazer, The National Law Journal, 2018
Lawyer of the Year, Best Lawyers®, 2018

Leading Lawyer in America,

Lawdragon,

2006-2007, 2009-2018

Attorney of the Month, Attorney At Law, 2017
Featured in "Lawyer Limelight" series, Lawdragon, 2017
Recommended Lawyer, The Legal 500, 2016

Selected as a Top Rated Lawyer, South Florida's Legal Leaders,

Miami Herald

, 2015

Litigation Star, Benchmark Litigation, 2013

Featured as one of Florida's "Legal Elite" in

Florida Trend

magazine, 2003, 2006

Named one of "Florida's Most Effective Lawyers" in the Class Action category by American Law Media, 2006

Featured as one of Florida's top lawyers in

South Florida Business Journal,

2006

Selected as one of the nation's top "40 Under 40" by The National Law Journal, 2002, 2005
Firm Awards:
Elite Trial Lawyers,

The National Law Journal,

2014-2016, 2018

Top Plaintiff Firm, Benchmark Litigation, 2010-2018
Tier 1 Firm, "Best Law Firms," U.S. News – Best Lawyers®, 2013-2018
Band 1 Law Firm, Chambers USA, 2010-2018
Top-Tier Plaintiffs' Firm, The Legal 500, 2010-2018
Practice Group of the Year, Law360, 2015-2017
Selected as the Securities winner, Elite Trial Lawyers, The National Law Journal, 2016
Most Feared Litigation Firms, BTI Consulting, 2014-2015
Most Feared Plaintiffs' Firm, Law360, 2013-2015
Plaintiffs' Hot List, The National Law Journal, 2004-2009, 2011, 2013-2014
Education
Emory University School of Law, J.D., 1993, with Highest Distinction
Editor, Emory Law Journal
Order of the Coif Legal Honor Society
Awarded multiple American Jurisprudence Book Awards for earning the highest grade in class
University of Florida, B.S., 1990, Psychology
Member, University Honors Program
Admissions
Florida
United States Supreme Court
United States Courts of Appeals: Fifth and Eleventh Circuits
United States District Courts: Northern, Middle and Southern Districts of Florida; District of Colorado; Eastern District of Michigan
News
January 11, 2019

November 1, 2018

October 8, 2018

September 5, 2018

August 21, 2018

August 15, 2018

August 10, 2018

July 26, 2018

June 18, 2018

June 13, 2018

May 30, 2018

May 15, 2018

May 9, 2018

May 4, 2018

May 3, 2018

May 1, 2018

April 17, 2018

March 19, 2018

February 8, 2018

January 25, 2018

January 16, 2018

January 8, 2018

December 21, 2017

December 14, 2017

November 1, 2017

September 22, 2017

September 13, 2017

September 12, 2017

August 15, 2017

July 19, 2017

July 17, 2017

June 8, 2017

May 15, 2017

May 8, 2017

April 28, 2017

April 27, 2017

April 24, 2017

April 21, 2017

February 10, 2017

January 27, 2017

January 24, 2017

January 10, 2017

December 19, 2016

November 9, 2016

November 2, 2016

October 25, 2016

October 21, 2016

October 13, 2016

August 17, 2016

August 16, 2016

June 28, 2016

June 21, 2016

June 8, 2016

May 23, 2016

May 17, 2016

May 2016

May 6, 2016

April 29, 2016

April 28, 2016

April 22, 2016

April 22, 2016

April 8, 2016

February 24, 2016

February 11, 2016

January 22, 2016

January 12, 2016

December 21, 2015

November 9, 2015

November 3, 2015

October 16, 2015

October 9, 2015

September 28, 2015

August 5, 2015

June 11, 2015

May 19, 2015

May 14, 2015

April 21, 2015

November 17, 2014

November 6, 2014

September 4, 2014

July 5, 2014

June 4, 2014

May 1, 2014

April 16, 2014

September 10, 2013

July 12, 2013

May 1, 2013

February 13, 2013

January 30, 2013

December 12, 2012

July 19, 2012

May 16, 2012

April 19, 2012

April 19, 2011

May 2, 2004
Professional Affiliations
Faculty, Mass Torts MDL Certificate Program, Bolch Judicial Institute of Duke Law School
Member, Board of Advisors for The Center on Civil Justice, New York University School of Law
Member, Advisory Board, Emory University School of Law
Member, Advisory Board of The Institute for Complex Litigation and Mass Claims, Emory University School of Law
Featured Seminars & Speaking Engagements
The Duke Law Bolch Judicial Institute, Mass-Tort MDL Certificate Program, Durham, North Carolina; March 13-15, 2019

HarrisMartin's Opioid Litigation Conference: The Case Against the Wholesalers: "Wholesalers' Roles in the Allegations Against All Defendants," Surfside, Florida; March 8, 2019
ValueEdge Advisors' 2018 Public Funds Forum: "The War on Opioids," Laguna Beach, California; September 6, 2018
ValueEdge Advisors' 2017 Public Funds Forum: "The Opioid Epidemic," San Diego, California; September 6, 2017
ValueEdge Advisors' 2017 Public Funds Forum: "Keynote Address," Q&A Presentation with President Bill Clinton; San Diego, California; September 5, 2017
Emory Law Institute for Complex Litigation and Mass Claims, Complex Settlements Conference co-sponsored by the Federal Judicial Center and the JPML: "Fairness Determinations: Pitfalls and Challenges in Class Settlement," Atlanta, Georgia; December 14, 2016
The Duke Law Center for Judicial Studies, Class Action Settlement Conference: "Compensation of Objectors," San Diego, California; October 6-7, 2016
ValueEdge Advisors' 2016 Public Funds Forum: "The Volkswagen Emissions Scandal: A Look Under the Hood of Dieselgate," Deer Valley, Utah; September 2, 2016
LSI's Automobile Class Actions with Global Ramifications: "Volkswagen Emissions Scandal: So What Kind of Case is This Anyway?," New Orleans, Louisiana; December 2, 2015
ValueEdge Advisors' 2015 Public Funds Forum: "Playing to Win: Lessons on Teamwork and Leadership," Presentation with Shaquille O'Neal; Laguna Beach, California; September 9, 2015
Institute for Law & Economic Policy's 19th Annual Symposium: "Multi-Jurisdiction Litigation – State, Federal & Foreign," Co-Panelist with Judges Shira Scheindlin and Leo Strine, Jr.; Naples, Florida; April 12, 2013
Featured Articles & Case News
Featured Articles & Case News
Carlos Harrison, Where Pit Bulls Fear to Tread: Anywhere Near Attorney Paul Geller, Florida Super Lawyers Mag. (June 2009), http://www.superlawyers.com/florida/article/Where-Pit-Bulls-Fear-to-Tread/df6258d4-73ab-4c28-8479-d02d07162180.html
David Wilkening, Paul Geller: Ultimate Fighter, Boca Life Mag., Jan. 2007, at 50-51
Jim McCormick & Maryann Karinch, Business Lessons from the Edge: Learn How Extreme Athletes Use Intelligent Risk Taking to Succeed in Business 189-192 (McGraw-Hill 1st ed. 2009)
HSBC Faces $2.46 Billion Judgment in Securities Fraud Case, The New York Times (Oct. 17, 2013), http://www.nytimes.com/2013/10/18/business/hsbc-is-fined-2-46-billion-in-securities-fraud-case.html
Ed Silverman, Pfizer to Pay $400M to Settle Shareholder Suit Over Off-Label Marketing, The Wall Street Journal (Jan. 27, 2015), http://blogs.wsj.com/pharmalot/2015/01/27/pfizer-to-pay-400m-to-settle-shareholder-suit-over-off-label-marketing/
Institutional Shareholder Services Top 50 Report, May 2015 (ranking Robbins Geller #1 in both the total amount and number of class action recoveries for 2014)
C.N.V. Krishnan, et al., Who are the Top Law Firms? Assessing the Value of Plaintiffs' Law Firms in Merger Litigation, Am. L. & Econ. Rev. (Fall 2015) (objectively ranking Robbins Geller as the top law firm out of 336 firms that settled M&A cases in Delaware between 2003 and 2012)