PDF
Robbins Geller Named Law360 2023 California Powerhouse Firm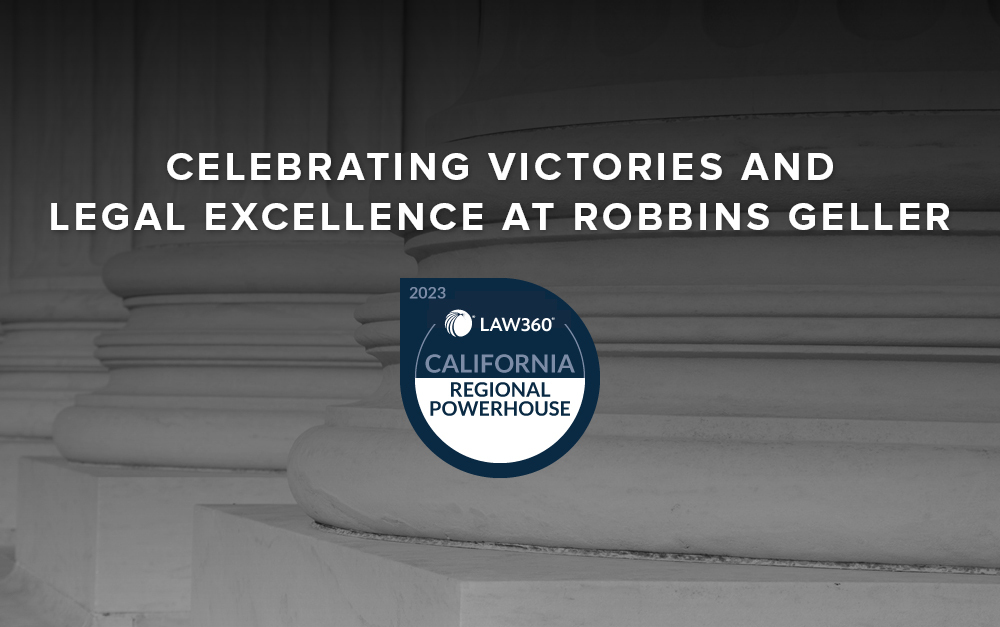 August 25, 2023
On Friday, August 18, 2023, Law360 released its list of 2023 Regional Powerhouses, naming Robbins Geller Rudman & Dowd LLP, among other firms, to its California list, for the Firm's successes in high-profile cases and lasting impact on the law.
According to Law360, the firms listed "scored billion-dollar settlements in large class actions, won victories against drug companies that contributed to the opioid epidemic, and managed significant deals."
A few of the recoveries the Firm has secured for clients in 2023, many in California courts, include nearly $230 million from Walgreens for its role in the opioid epidemic in San Francisco (subject to court approval), $235 million from Altria for its role in the youth e-cigarette epidemic (subject to court approval), $5 billion in the antitrust case In re Payment Card Interchange Fee and Merchant Discount Antitrust Litigation, $300 million for Wells Fargo investors (pending court approval), $141 million for McKesson investors, $109 million for Cardinal Health investors (subject to court approval), $107.5 million for Micro Focus investors, $74 million for Arconic investors in a case arising from the tragic London Grenfell Tower fire, $40 million for Immunomedics investors, and $173 million for Exelon investors (subject to court approval).
Partner Darren Robbins spoke with Law360 in an interview published August 24, 2023 about being named a California Powerhouse Firm, and about the Firm's recent work.
"Our focus is maintaining the commitment to excellence, commitment to quality," said Robbins.
Read the interview at https://www.law360.com/articles/1711638/california-powerhouse-robbins-geller or download it here.
About Robbins Geller
Robbins Geller Rudman & Dowd LLP is one of the world's leading complex litigation firms, representing plaintiffs in securities fraud, shareholder derivative, antitrust, corporate takeover, and consumer fraud and privacy cases. With 200 lawyers in 9 offices, Robbins Geller is one of the world's largest plaintiffs' firms, and the Firm's attorneys have obtained many of the largest securities, antitrust, and consumer class action recoveries in history.
The Firm is ranked #1 on the most recent ISS Securities Class Action Services Top 50 Report for recovering more than $1.75 billion for investors in 2022 — the third year in a row Robbins Geller tops the list. And in those three years alone, Robbins Geller recovered nearly $5.3 billion for investors, more than double the amount recovered by any other plaintiffs' firm. The Firm secured the largest-ever securities fraud class action settlement — $7.2 billion — in In re Enron Corp. Securities Litigation.
For media inquiries, please contact media@rgrdlaw.com or call (619) 338-3821.
Read More Awards