PDF
12 Robbins Geller Partners Listed Among 500 Leading Litigators in America by Lawdragon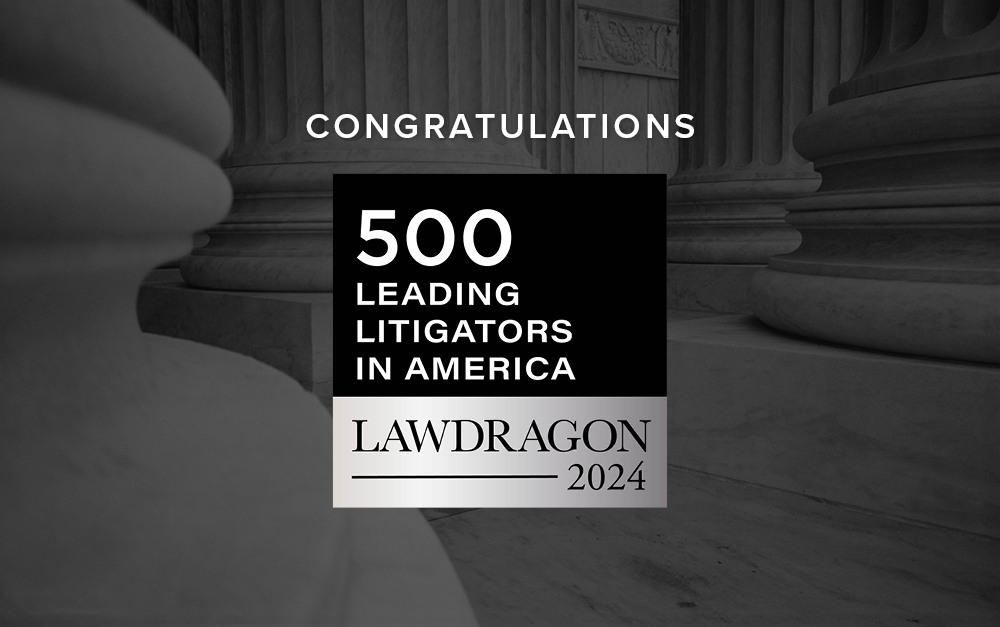 September 14, 2023
Lawdragon recently released their 2024 guide to America's 500 leading litigators. The guide includes lawyers in their second decade of practice and world-renowned advocates whose careers span many decades – all of them among the "array of talent in America's great trial teams."
We're honored that Lawdragon recognized 12 Robbins Geller Rudman & Dowd LLP partners. Each one is an experienced litigator, and collectively they have represented shareholders and consumers in actions to successfully recover billions of dollars and secure broad-ranging corporate reforms.
Robbins Geller attorneys named among Lawdragon's 500 Leading Litigators in America include Michael Albert, Dory P. Antullis, Kenneth J. Black, Desiree Cummings, Stuart A. Davidson, Mark J. Dearman, Paul J. Geller, J. Marco Janoski Gray, Robert R. Henssler Jr., Erika Oliver, Robert J. Robbins, and Juan Carlos Sanchez. Several were also honored by Lawdragon as Leading Plaintiff Financial Lawyers in May 2023.
Notable settlements these Leading Litigators have helped to secure so far this year include:
Among notable settlements they helped to secure in 2022 are:
"We're exceptionally proud of all our attorneys and appreciate that Lawdragon recognized our colleagues who display passion and determination to secure accountability and relief for our clients," said partner Paul Geller.
See the full Lawdragon guide at https://www.lawdragon.com/guides/2023-09-08-the-2024-lawdragon-500-leading-litigators-in-america
About Robbins Geller

Robbins Geller Rudman & Dowd LLP is one of the world's leading complex litigation firms, representing plaintiffs in securities fraud, shareholder derivative, antitrust, corporate takeover, and consumer fraud and privacy cases. With 200 lawyers in 9 offices, Robbins Geller is one of the world's largest plaintiffs' firms, and the Firm's attorneys have obtained many of the largest securities, antitrust, and consumer class action recoveries in history.

The Firm is ranked #1 on the most recent ISS Securities Class Action Services Top 50 Report for recovering more than $1.75 billion for investors in 2022 — the third year in a row Robbins Geller tops the list. And in those three years alone, Robbins Geller recovered nearly $5.3 billion for investors, more than double the amount recovered by any other plaintiffs' firm. The Firm secured the largest-ever securities fraud class action settlement — $7.2 billion — in In re Enron Corp. Securities Litigation.

For media inquiries, please contact media@rgrdlaw.com or call (619) 338-3821.
Read More Awards
September 5, 2023

August 25, 2023

August 17, 2023

August 2, 2023

July 13, 2023