PDF
Robbins Geller Tops Benchmark Litigation's Rankings
Ranked Tier 1 for Securities Litigation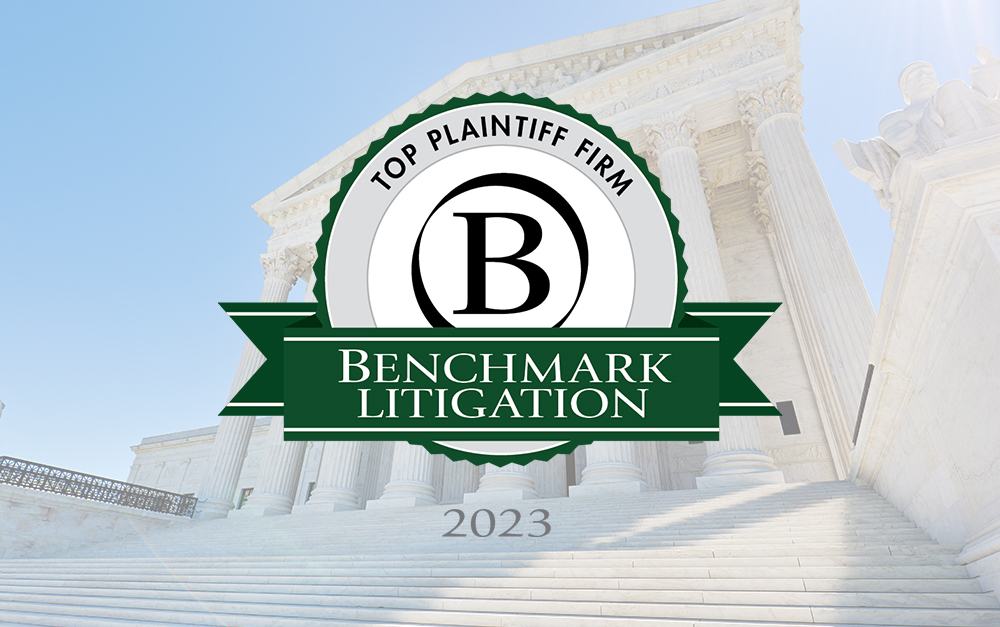 October 10, 2022
This month, Benchmark Litigation released their 2023 rankings, honoring Robbins Geller Rudman & Dowd LLP as a top firm in the nation in multiple categories. The Firm was ranked nationwide Tier 1 for securities litigation. The Firm was also honored as a Tier 1 Plaintiff Firm, Tier 1 Firm in Securities, and Highly Recommended Firm in Dispute Resolution among law firms in California.
The Firm has secured a string of precedent-setting outcomes in securities litigation on behalf of investors worldwide, including an $809 million recovery (pending final court approval) in a securities fraud class action against Twitter and a $1.21 billion settlement against Valeant Pharmaceuticals, the largest-ever securities class action recovery against a pharmaceutical manufacturer.
The Firm has also been a leader in complex class action litigation across the country.
Paul J. Geller, a partner in the Firm's Boca Raton, Florida office, is a leader in the sprawling opioid multi-district litigation and led negotiations of over $30 billion in groundbreaking settlements with pharmaceutical manufacturers and the nation's "big three" distributors in In re National Prescription Opiate Litigation.
San Francisco-based partner Aelish Marie Baig served as co-trial counsel in a nationally watched federal bench trial that resulted in a resounding ruling in favor of our client the People of the State of California by and through the San Francisco City Attorney. After a months-long trial, the court held that Walgreens was liable for "substantially contribut[ing]" to the opioid epidemic in the City of San Francisco – a closely watched ruling that came after several other defendants agreed to pay the city tens of millions of dollars to resolve claims that they facilitated San Francisco's opioid abuse epidemic.
Robbins Geller also played a leading role as co-lead counsel in the prosecution of In re EpiPen (Epinephrine Injection, USP) Marketing, Sales Practices & Antitrust Litigation, which concluded with a $609 million recovery for the nationwide class. The antitrust case – led by partners Paul J. Geller and Stuart A. Davidson – alleged that manufacturer Pfizer and marketer and distributor Viatris (formerly Mylan) excluded competitors who manufactured and distributed generic alternatives for the life-saving EpiPen device from the market, reaping outsize profits from inflated prices paid by consumers and third-party payors.
"We're honored and humbled by this recognition. We have a very special team here that shares a passion for helping others," stated Darren J. Robbins, a partner in the Firm's San Diego office. "It's a privilege every day to assist clients in seeing wrongs righted, and it's their commitment and passion that drives the results we've been able to achieve," he added.
The Benchmark Litigation awards celebrate the leading litigators across the United States and recognize "distinguished litigators and their firms" for their work. For more information on their methodology, click here.
About Robbins Geller
Robbins Geller Rudman & Dowd LLP is one of the world's leading complex litigation firms, representing plaintiffs in securities fraud, shareholder derivative, antitrust, corporate takeover, and consumer fraud and privacy cases. With 200 lawyers in 9 offices, Robbins Geller is one of the world's largest plaintiffs' firms, and the Firm's attorneys have obtained many of the largest securities, antitrust, and consumer class action recoveries in history.
The Firm is ranked #1 on the 2021 ISS Securities Class Action Services Top 50 Report for recovering nearly $2 billion for investors last year alone — more than triple the amount recovered by any other plaintiffs' firm. The Firm secured the largest-ever securities fraud class action settlement — $7.2 billion — in In re Enron Corp. Securities Litigation.
For media inquiries, please contact media@rgrdlaw.com or call (619) 338-3821.
Read More Firm News
November 21, 2023

November 16, 2023

November 3, 2023

October 24, 2023

October 20, 2023