"formidable bench of advocates with an impressive record"

"excellent honorable counsel"

"aggressive, tenacious and in a league of its own"

"trailblazers"

The National Law Journal

The New York Law Journal

The Recorder

"absolute best in class legal service"

"'the best financed'" firm

"deep bench of talented lawyers"

"masters of the courtroom"

"extraordinary"

Hon. Melinda Harmon
Hon. Algenon L. Marbley

Hon. Karen M. Humphreys

Hon. Loretta A. Preska

Hon. Gonzalo P. Curiel

Hon. Daniel T.K. Hurley

Hon. Max O. Cogburn, Jr.

Hon. Jesse M. Furman

Hon. John A. Houston
Robbins Geller Rudman & Dowd LLP is one of the world's leading complex litigation firms representing plaintiffs in securities fraud, antitrust, corporate mergers and acquisitions, consumer and insurance fraud, multi-district litigation, and whistleblower protection cases. With 200 lawyers in 9 offices, Robbins Geller has obtained many of the largest securities, antitrust, and consumer class action recoveries in history, recovering tens of billions of dollars for victims of fraud and corporate wrongdoing. Robbins Geller attorneys are consistently recognized by courts, professional organizations, and the media as leading lawyers in their fields of practice.
Insights

ISS SCAS Top 50 Report Ranks Robbins Geller First for Recovering $1.6 Billion for Investors in 2020, More Than Any Other Plaintiffs Firm

On March 23, 2021, Institutional Shareholder Services (ISS) released its annual Securities Class Action Services (SCAS) Top 50 Report with Robbins Geller ranked first among all law firms. Robbins Geller recovered more than $1.6 billion for investors in 2020, including the top two securities class action recoveries of the year: American Realty Capital Properties, Inc. ("ARCP") ($1.025 billion recovery) and First Solar ($350 million recovery).

Insights

2021 Public Funds Forum
Grand Del Mar
San Diego, California
October 26, 2021- October 28, 2021

Join us for an invitation-only, three-day intensive training program led by experts who will cover a wide range of topics, including best practices in fund governance, tools for risk management, trends in sustainable investment, oversight of private investment, manager selection and oversight, global strategy, and maximizing portfolio returns.

Insights

Securities Group Of The Year: Robbins Geller

Robbins Geller Rudman & Dowd LLP nabbed a pair of billion-dollar settlements for investors in the former Valeant Pharmaceuticals International and American Realty Capital Properties this year and wrapped up a case on the eve of trial with a $350 million deal, earning the firm a spot among Law360's Securities Practice Groups of the Year.
ISS SCAS Top 50 Report Ranks Robbins Geller First 
2021 Public Funds Forum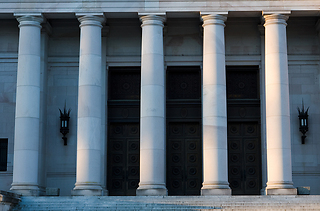 Securities Group Of The Year: Robbins Geller