PDF
Partner Aelish Marie Baig Recognized as 2023 Plaintiffs' Lawyers Trailblazer by The National Law Journal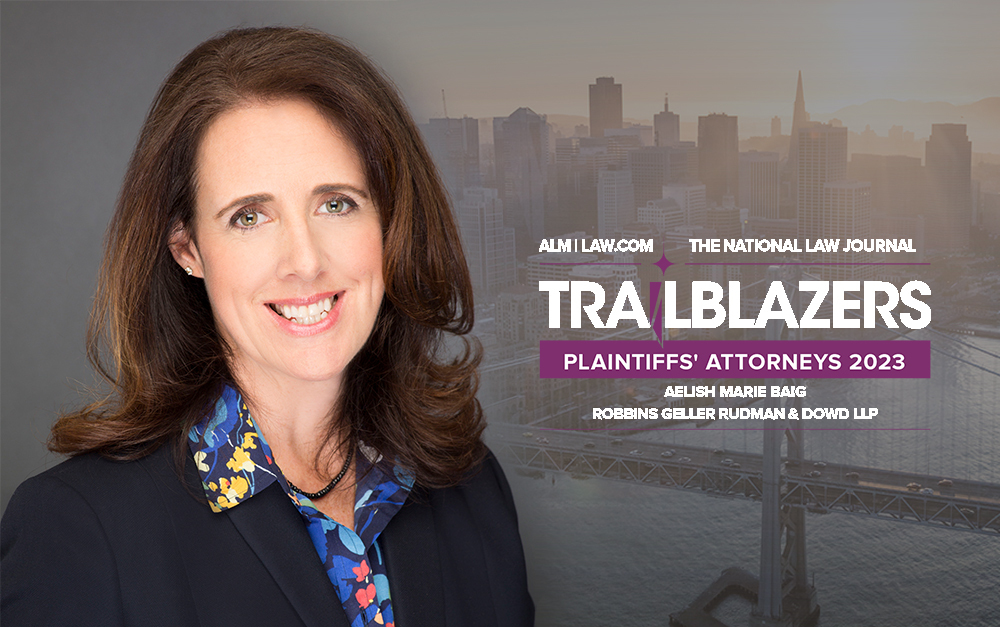 May 2, 2023
The National Law Journal named Robbins Geller Rudman & Dowd LLP partner Aelish Marie Baig to its annual Plaintiffs' Lawyers Trailblazers 2023 list. She is being honored for her relentless efforts to hold corporations accountable for their role in fueling the opioid epidemic.
Since 2016, Baig has worked on the national opioid litigation representing city, county, and state governments in one of the largest litigation efforts ever mounted. Last year, she served as co-lead counsel in a federal bellwether bench trial in that multi-district litigation in San Francisco, which was watched closely across the country.
Baig and her co-counsel prosecuted the case on behalf of the City and County of San Francisco, which reported serious and ongoing harm to the community from the opioid epidemic. At the conclusion of the liability phase of the trial, the court found the evidence presented against Walgreens was "not only adequate" but "devastating"; that Walgreens created a "public nuisance" in San Francisco in the form of a virulent opioid epidemic and found that the company regularly failed to perform due diligence and report suspicious prescription drug orders, resulting in the city being saturated with more than 150 million opioid pills from 2006 to 2020. The trial team achieved combined settlements of nearly $70 million for San Francisco from the drug company defendants, a liability finding against Walgreens, and, in the broader multi-district litigation, more than $50 billion was recovered nationwide against multiple drug companies. Under the settlements, the recovered funds must be used by state and local governments to abate the opioid epidemic.
"Our hope and firm expectation is that we will see communities better-equipped and better-resourced to abate this epidemic and recover from it," says Baig. "Our entire team at Robbins Geller, our co-counsel, and the San Francisco City Attorney's office came together with this singular purpose in this case, and we're very proud of the work we've done on behalf of the community."
Additionally, Baig serves on the Plaintiffs' Steering Committee in In re McKinsey & Co., Inc. National Prescription Opiate Consultant Litigation, a collection of suits against McKinsey, one of the world's leading business consultancies, for its alleged role in masterminding Purdue and other drug companies' sales practices that saturated American communities with opioids. She also serves on the leadership committee in the Juul litigation which has now partially resolved for approximately $1.7 billion. This is the second time Baig has been selected to the Plaintiffs' Lawyers Trailblazers list.
Previous Robbins Geller Trailblazers include: Randall J. Baron and Spencer A. Burkholz in 2022; Aelish Marie Baig and Jessica T. Shinnefield in 2021; Samuel H. Rudman, Spencer A. Burkholz, Willow E. Radcliffe, and Robert R. Henssler, Jr. in 2020; Shawn A. Williams and Tor Gronborg in 2019; and Paul J. Geller, Jason A. Forge, and Rachel L. Jensen in 2018.
The full 2023 list is available here: https://images.law.com/media/nationallawjournal/supplements/NLJTB_Plaintiffs_2023/index.html#p=18
About Robbins Geller

Robbins Geller Rudman & Dowd LLP is one of the world's leading complex litigation firms, representing plaintiffs in securities fraud, shareholder derivative, antitrust, corporate takeover, and consumer fraud and privacy cases. With 200 lawyers in 9 offices, Robbins Geller is one of the world's largest plaintiffs' firms, and the Firm's attorneys have obtained many of the largest securities, antitrust, and consumer class action recoveries in history.
The Firm is ranked #1 on the most recent ISS Securities Class Action Services Top 50 Report for recovering over $1.75 billion for investors in 2022. This is the third consecutive year in which the Firm topped these rankings. The Firm's attorneys secured the largest-ever securities fraud class action settlement – $7.2 billion – in In re Enron Corp. Securities Litigation.

For media inquiries, please contact media@rgrdlaw.com or call (619) 338-3821.
City & County of San Francisco, CA v. Purdue Pharma L.P., No. 18-cv-07591-CRB (N.D. Cal.).
Read More Awards
September 14, 2023

September 5, 2023

August 25, 2023

August 17, 2023

August 2, 2023