PDF
How to Kill a Leviathan
Opioid Crisis Litigation in America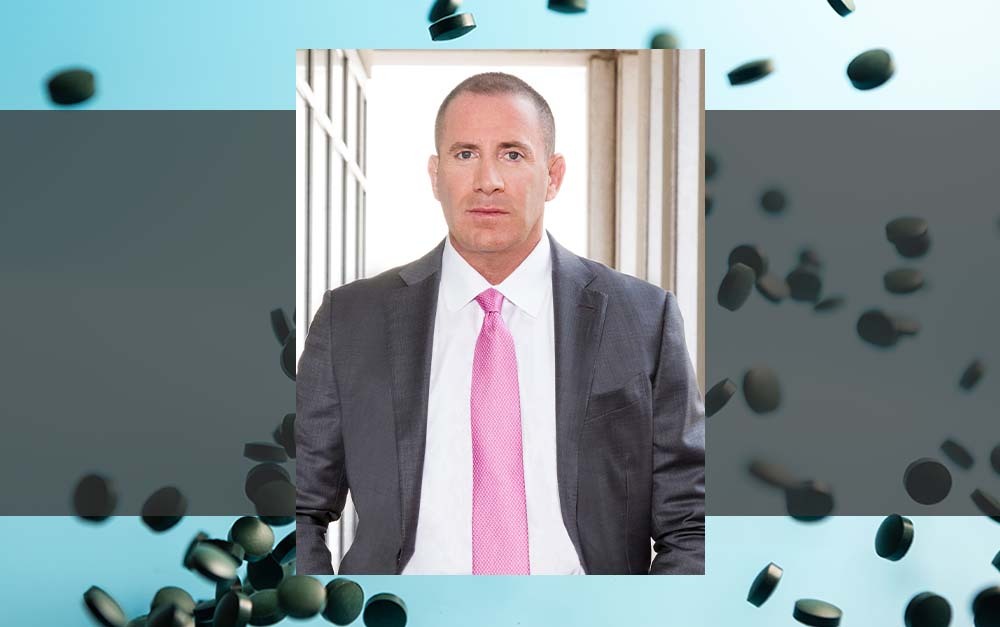 January 13, 2023
By Lisa Ashmore
"YOU MURDERED MY DAUGHTER and destroyed my family," a mother of a 22-year-old testified in March 2022 in a federal bankruptcy courtroom in White Plains, New York.
It was extraordinary: three members of the Sackler family were required to listen to 26 people from 19 states tell them about family they'd lost or the costs of their own opioid addiction.
The Sacklers' company, Purdue Pharma, owned the incredibly profitable painkiller OxyContin®, introduced in 1996. Since 2000, opioid overdoses have been responsible for more than a million deaths in the United States. In 2015, American life expectancy dropped for the first time since World War II, and opioid overdoses contributed to the majority of the deaths.
Author Patrick Radden Keefe characterized the Sackler family's wealth with his book title: Empire of Pain. He said the resulting opioid multidistrict litigation (MDL) has been called "the most complex civil action ever tackled by any American court." Paul J. Geller 93L is a court-appointed member of the MDL's Plaintiff's Executive Committee. He is a partner with Robbins Geller Rudman & Dowd and practices in the firm's Boca Raton offices.
"It is the most complicated, most challenging, most demanding, and most important case I've ever had the privilege of handling," Geller said. "I'm involved in a lot of complex class actions that are important, but they boil down to being about money. But this one is different. People are dying. Families are suffering. And the impact is felt by everyone — rich and poor, rural and urban. We all know someone who lost a loved one to this crisis."
PRIOR FEDERAL PROSECUTION
In 2007, Purdue pled guilty in a US District Courtroom in Abingdon, Virginia, to federal criminal charges and paid $600 million in fines and settlement payments; investigators said the company had misled doctors, patients, and regulators about the potential for abuse and addiction. But the company marched on, posting astronomical profits that allowed the family's philanthropy to be associated with some of the world's premier art galleries: New York's Metropolitan Museum of Art, the Guggenheim, the Louvre, and London's Tate Modern, among others. Most have since stripped the Sackler name from their buildings and exhibition spaces.
Purdue marketed OxyContin as different from oxycodone drugs because of a 12-hour controlled release, which the company claimed made the drug safe for many kinds of pain rather than its previous use mostly for patients in extremis.
Between 2000 and 2010, the number of US prescriptions for oral opioids more than doubled. "In 2010, prescription rates topped out at 81.2 prescriptions per 100 persons per year," Nora Freeman Engstrom and Robert L. Rabin write in their 2021 Stanford Law Review article, "Pursuing Public Health Through Litigation: Lessons from Tobacco and Opioids." When criminal prosecutions shut OxyContin pill mills down, the flow of OxyContin slowed. Many of those addicted then turned to heroin and fentanyl. (The American Society of Addiction Medicine estimates that four out of five heroin users started with prescription pills.) By 2016, synthetic opioids (primarily illegal fentanyl) were the leading cause of overdose deaths. Narcan, an antidote which had been around since the 1970s, became a standard part of police and EMT gear. But deaths and hospitalizations continued. Victims' families filed suit and generally got nowhere.
By 2017, Purdue had acknowledged the potential for addiction: "Patients who take OxyContin in accordance with its FDAapproved labeling instructions will likely develop physical dependence," a company spokesman said in a statement to the New Yorker. That same year, more than 3,000 opioid lawsuits were combined into a multidistrict proceeding in Ohio US District Court Judge Dan Polster's courtroom.
ORGANIZING THE MDL
Measured by any scale, the epidemic was a leviathan, and like monsters of lore, it left a trail of dead. Judge Polster emphasized urgency from the outset: "About 150 Americans are going to die today, just while we're meeting," he said at the MDL's first hearing.
The years since have included hearings and COVID delays, forming a negotiating class (which was later rejected by the Sixth Circuit Court of Appeals), and working against well-funded multinational defendants. But this year massive settlements with drugstore chains and pharmaceutical manufacturers began — in February: $26 billion to be paid by Janssen, McKesson, Cardinal Health, and AmerisourceBergen. July: Teva Pharmaceutical Industries and AbbVie/Allergan, $6.6 billion; and in August, a $650 million award against CVS, Walgreens, and Walmart to go to Lake and Trumbull counties in Ohio. (The six-week trial in Polster's court was the first opioid case decided by a jury.)
'90S BIG TOBACCO SETTLEMENTS
Comparisons have been made to the tobacco industry's 1998 master settlement agreement that involved 46 states. From the 1950s forward, tobacco companies won individual cases by arguing that the consumer knowingly assumed the health risks. But when they kept selling a product they knew was addictive and caused lung cancer (and concealed that knowledge), plaintiffs began to win.
Emory Law Associate Professor Matthew Lawrence is an authority on addiction who serves as a special advisor to the Drug Enforcement Agency. He notes similarities, but also some big differences.
"The '90s tobacco litigation — and the $250 billion settlement between tobacco companies and states — was a watershed moment after decades of questions about the public health harms of tobacco and the role of courts and litigation in resolving those questions," Lawrence said. "The opioid litigation that is still developing is in some ways comparable—both involve massive claims brought by states against companies believed to have contributed to an unthinkable amount of death and suffering."
Despite the public health victory, there were widespread concerns the tobacco settlement dollars did not go to heal those harmed and prevent further addiction, Lawrence said.
"This time around, there has been a lot of attention paid to how opioid settlement funds can be used to address the still-raging overdose crisis, which killed more people last year than ever," Lawrence said. "According to the CDC, more than 107,000 Americans died from drug overdoses and poisonings in 2021. This crisis is still very much in progress." Geller agreed. "The tobacco cases were largely driven by the states, and the local subdivisions felt that they did not see the funds. States used money not only for anti-tobacco education campaigns, but also to fill potholes and build libraries. For opioids, the local governments took a much more aggressive and up-front role," Geller said. Another way the opioid crisis differs is in how to attack it.
"If one restricts the legal sale of tobacco or nicotine, one has notched a victory for public health. If … one restricts the legal sale of opioids, at least in the short term, death rates might rise," Engstrom and Rabin write. And when pharmaceuticals are no longer available, the alternatives are illegal or more dangerous. "The move from prescription opioids to heroin is a one-way street," they write. "For a number of reasons (including price and ease of acquisition), those who graduate to the latter don't tend to go back to the former."
A similarity to the tobacco cases was a coalition of state attorneys general who drove litigation. While a unified front is effective, the number of parties involved and deciding who was entitled to what from the MDL settlement certainly contributed to the complexity of the case, Geller said.
"With the governmental entities — states, cities, and counties — there is tremendous overlap in population," he said. "In other words, if you live in Fort Lauderdale (a plaintiff), you also live in Broward County (a plaintiff) and you also live in Florida (a plaintiff). This case involved a lot of very nuanced political collaboration—and in some cases jostling —between local and state governments along with the usual litigation against very sophisticated defendants. The defendants — manufacturers, distributors, and retail pharmacies — all pointed fingers at each other. So this was, and still is, an incredibly complex constellation of both state and federal lawsuits involving interrelated plaintiffs, interrelated defendants and complicated application of RICO and public nuisance laws." That's why the work to certify a negotiating class was valuable even though the Sixth Circuit Court of Appeals later rejected it, Geller said. He was one of the architects of the class, and says it was essential to determine distribution. They consulted with public health economists, local government representatives, and state attorneys general.
"It was a long and tedious process, and not everyone was happy," he said. "Certain states like California believed that population should be the most important metric. Other states like West Virginia recognized that it shouldered a disproportionate burden based on impact and that population would skew distribution in a way it felt was unfair. We had a lot of valid concerns and opinions to deal with."
In the end, states overwhelmingly opted in, to both stop deaths and to save tax dollars. They had to do so without knowing how much they would receive, but with the understanding a very structured distribution plan would be geared toward treatment. Some factors included population, the rate of opioid abuse and deaths, and the number of pills that were distributed in the particular city or county. Also, the rate of adoption was important. In February's $26 billion settlement, a state got full allocation if all its local governments signed on. For example, all 100 North Carolina counties and 47 municipalities did so, and the state received $750 million.
"It was very important to us that the recovery would be used to abate the public health crisis. Treatment. Prevention. Education," Geller said. "Local government entities had their budgets ravaged by the crisis. Most heroin addiction is linked to prescription opioid addiction. Things like overcrowded jails, overcrowded hospitals, overworked first responders, insufficient treatment beds and programs, impact on foster care, increase in homelessness all track to this epidemic. So, money is needed and needed now."
CRIMINAL CHARGES IN FEDERAL COURT
In November 2020, Purdue Chair of the Board Steve Miller appeared before US District Judge Madeline Cox Arleo in New Jersey and pled guilty to three criminal charges on the company's behalf.
Miller admitted Purdue had knowingly and intentionally conspired to defraud the DEA and affirmed further questions about criminal acts involving kickbacks and conspiracy. The plea settlement required the Sacklers to pay the government $225 million, part of a larger $2 billion criminal forfeiture. The agreement also included a $3.54 billion criminal fine and a $2.8 billion civil settlement.

But as with the MDL, there were compromises and reversals. According to Reuters, in exchange for pleading guilty to three felony criminal charges, the $225 million went toward the $2 billion forfeiture. The Justice Department agreed to forego the rest if the company completed a bankruptcy reorganization to dissolve itself and shift assets to a public benefit company to allow the $1.75 billion unpaid portion to go to thousands of US communities that had sued Purdue.
In December 2021, New York US District Court Judge Colleen McMahon overturned US Bankruptcy Court Judge Robert Drain's decision that would have provided lifetime immunity for Sackler family members facing civil lawsuits in exchange for dissolving the company and paying $4.5 billion. The agreement would have shielded family members from third-party claims in the Chapter 11 bankruptcy Purdue filed in 2019. Nine state attorneys general and the District of Columbia had strenuously objected to the plan. US Attorney General Merrick Garland agreed with McMahon: "The bankruptcy court did not have the authority to deprive victims of the opioid crisis of their right to sue the Sackler family."
In March 2022, at the hearing that allowed family members to speak to the Sacklers, a new settlement was tentatively approved, estimated to be worth at least $10 billion over time. Members of the Sackler family will contribute $5.5 to $6 billion over 17 years to fight the opioid crisis. Most will be used to fund efforts going forward, but $750 million would go directly to victims or their survivors. It provides over $150 million for Native American tribes and another $100 million for children born in opioid withdrawal.
WHAT'S AHEAD
While checks have begun to flow to local governments and massive settlements continue, lots of work remains, Geller said. In early November, Reuters reported the first nationwide settlement with retail pharmacies had tentatively been reached. CVS and Walgreens agreed to pay about $5 billion each, which will go to states and Native American tribes for abatement efforts. Talks with Walmart concerning a settlement were also underway, Geller said.
"The pharmacies are the last patient facing link in the opioid supply chain. With improved dispensing protocols, they are uniquely positioned to help reduce opioid abuse and to save lives," Geller said. "Still out there are the third-party payor (TPP) claims and others. The TPPs are the entities that foot the bill for the flood of pills, so these are important claims that still remain in the MDL against all defendants."
So how valuable is litigation in attacking public health issues?
"Litigation (fortified by the damning disclosures uncovered in discovery) can help to shape public opinion and, ultimately, stimulate private, political, and regulatory activity," Engstrom and Rabin say. In the opioid cases, "litigation has forced the public release of ARCOS data—the confidential database maintained by the DEA that maps where every pill originated and where it was sold." That data revealed "that a mind-boggling number of pills was sold from 2006 through 2012 (far more than had been previously estimated). It also permits journalists, researchers, health experts, and the public to measure and map the precise roots and contours of the opioid epidemic for the first time, while also identifying, with precision, which manufacturers, distributors, and retailers shipped the most pills to the hardest-hit communities."
SOURCES:
Empire of Pain: The Secret History of the Sackler Dynasty, by Patrick Radden Keefe
"Pursuing Public Health Through Litigation: Lessons from Tobacco and Opioids," 73 Stanford Law Review 285 (2021) Nora Freeman Engstrom and Robert L. Rabin
"Companies Finalize $26 Billion Deal with States and Cities to End Opioid Lawsuits," by Jan Hoffman (New York Times)
"Sacklers to Exit from Complex Purdue Bankruptcy with Billions," by Jeremy Hill, Sophie Alexander, Jef Feeley, and Riley Griffin (Bloomberg)
"After Years of Pain, Opioid Crisis Victims Confront Sackler Family in Court," Geoff Mulvihill and Jennifer Peltz (Associated Press)
*
Author credit to Lisa Ashmore.
Reprinted with permission from the Winter 2022 issue of Emory Lawyer © Emory University. All rights reserved.
To view the original article, click here.
Read More Firm News
December 7, 2023

November 21, 2023

November 16, 2023

November 3, 2023

October 24, 2023