PDF
"Top-Flight Plaintiff Litigators": Chambers Gives Robbins Geller Band 1 Ranking for the Fourteenth Consecutive Year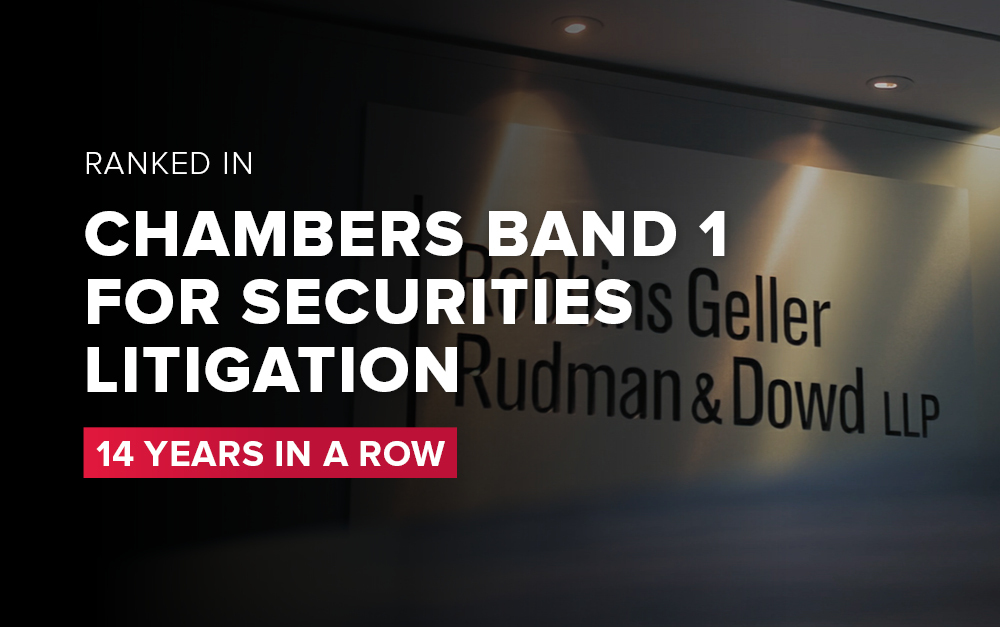 June 2, 2023
Chambers USA released its 2023 guide and named Robbins Geller Rudman & Dowd LLP a Band 1 firm, the highest rank available, in California and nationally. Chambers noted the Firm's "bench of top-flight plaintiff litigators" and the Firm's "proven track record of winning high-value settlements in class actions." 2023 is the fourteenth consecutive year Robbins Geller has been ranked by Chambers.
Robbins Geller was ranked Band 1 in the "Securities: Litigation: Mainly Plaintiff" category nationwide, Band 1 in the "Litigation: Mainly Plaintiffs" and "Litigation: Securities Mainly Plaintiffs" categories in California, and was also ranked in New York. Partners Darren Robbins, Randall J. Baron, Paul J. Geller, and Samuel H. Rudman were individually recognized by Chambers.
Chambers also highlighted Robbins Geller's trial expertise as one of the Firm's strengths:
"They have aggressive, smart and good lawyers who are not afraid to take these cases to trial."
"They have the most significant cases and have teams of trial lawyers that are willing to try cases."
The Firm recently was recognized by The National Law Journal for its work as a finalist in the 2023 Elite Trial Lawyers awards.
About Robbins Geller

Robbins Geller Rudman & Dowd LLP is one of the world's leading complex litigation firms, representing plaintiffs in securities fraud, shareholder derivative, antitrust, corporate takeover, and consumer fraud and privacy cases. With 200 lawyers in 9 offices, Robbins Geller is one of the world's largest plaintiffs' firms, and the Firm's attorneys have obtained many of the largest securities, antitrust, and consumer class action recoveries in history.

The Firm is ranked #1 on the most recent ISS Securities Class Action Services Top 50 Report for recovering more than $1.75 billion for investors in 2022 – the third year in a row Robbins Geller tops the list. And in those three years alone, Robbins Geller recovered nearly $5.3 billion for investors, more than double the amount recovered by any other plaintiffs' firm. The Firm secured the largest-ever securities fraud class action settlement — $7.2 billion — in In re Enron Corp. Securities Litigation.

For media inquiries, please contact media@rgrdlaw.com or call (619) 338-3821.


Read More Awards
September 14, 2023

September 5, 2023

August 25, 2023

August 17, 2023

August 2, 2023