PDF
Partner Paul Geller Recognized as Trailblazer by The American Lawyer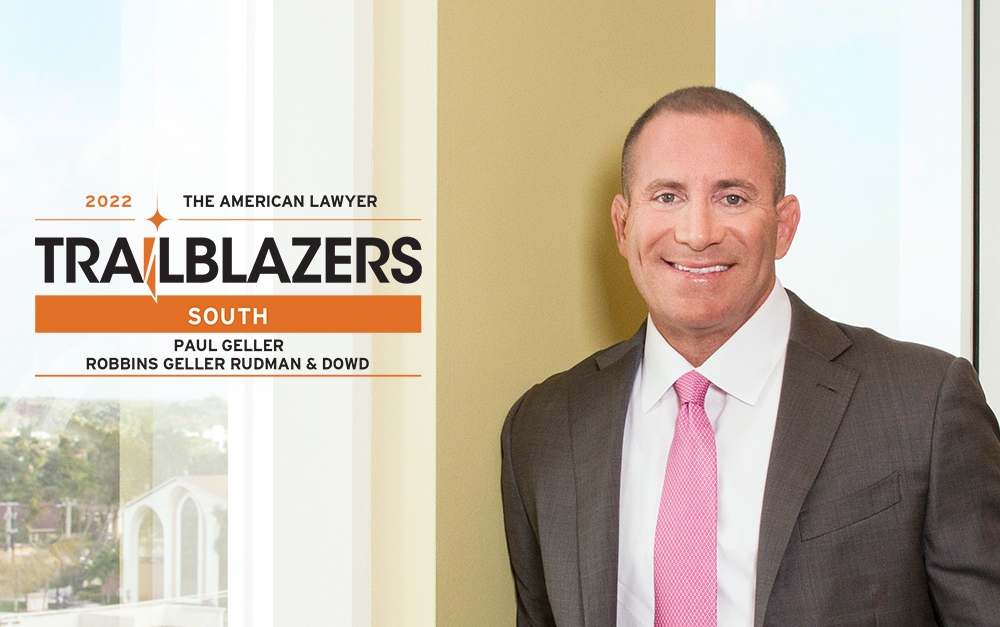 October 6, 2022
The American Lawyer named Robbins Geller Rudman & Dowd LLP partner Paul J. Geller to its list of South Trailblazers. The list recognizes attorneys who are truly "agents of change."
Geller directs the Firm's litigation team that is committed to holding the facilitators of the opioid epidemic accountable, serving as a key negotiator in multiple national settlements. Geller and the Plaintiffs' Executive Committee in the multi-district litigation negotiated $26 billion in settlements with major distributors and manufacturer Johnson & Johnson, and settlements with manufacturers Teva and Allergan that will provide more than $6 billion directly to affected state and local governments.
Geller recently served as co-lead counsel in a class action case against Facebook alleging that Facebook collected and stored users' unique biometric information in violation of Illinois state law. Shortly after the settlement, Facebook announced it was shutting down its facial recognition system.
In 2022, Geller has been named a Class Action MVP by Law360, a Florida Super Lawyer by Super Lawyers magazine, a Leading Lawyer and Leading Plaintiff Financial Lawyer by Lawdragon, and a Best Lawyer by Best Lawyers®.
The full list of Trailblazer honorees is available here: https://images.law.com/media/theamericanlawyer/supplements/TALTB_South_2022/index.html#p=2.
About Robbins Geller
Robbins Geller Rudman & Dowd LLP is one of the world's leading complex litigation firms, representing plaintiffs in securities fraud, shareholder derivative, antitrust, corporate takeover, and consumer fraud and privacy cases. With 200 lawyers in 9 offices, Robbins Geller is one of the world's largest plaintiffs' firms, and the Firm's attorneys have obtained many of the largest securities, antitrust, and consumer class action recoveries in history.
The Firm is ranked #1 on the 2021 ISS Securities Class Action Services Top 50 Report for recovering nearly $2 billion for investors last year alone – more than triple the amount recovered by any other plaintiffs' firm. The Firm secured the largest-ever securities fraud class action settlement — $7.2 billion — in In re Enron Corp. Securities Litigation.
For media inquiries, please contact media@rgrdlaw.com or call (619) 338-3821.
Read More Firm News