PDF
Robbins Geller and Attorneys Receive Top Rankings by Chambers USA for the Twelfth Consecutive Year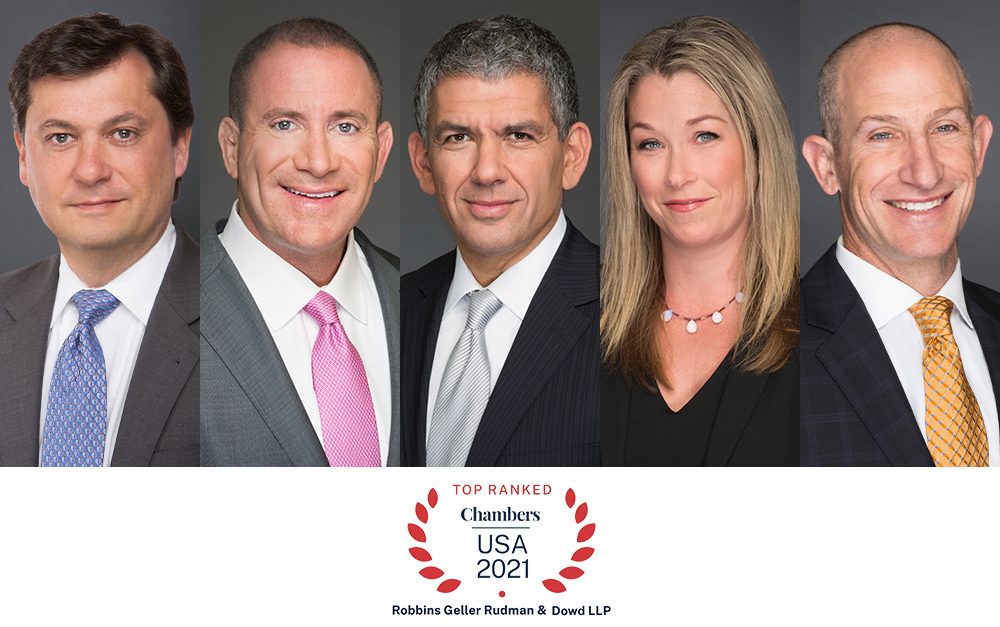 May 26, 2021
Robbins Geller once again was awarded Band 1 rankings, both nationally and in California, the highest ranking available, by Chambers USA. The publication hailed the Firm as a "[w]idely respected . . . top-notch plaintiff firm with considerable strength in the class action space" emphasizing its "excellent record of high-value recoveries for clients." For 2021, Robbins Geller received top rankings in the "Securities: Litigation: Mainly Plaintiff" nationwide category, "Litigation: Mainly Plaintiff" and "Litigation: Securities Mainly Plaintiff" in the California category, and "Litigation: Securities: Plaintiffs" in the New York category.
Chambers also ranked Robbins Geller partners Darren Robbins and Randall Baron in the "Litigation: Securities" category, partner Paul Geller in the "Product Liability: Plaintiffs" category, and partner Samuel Rudman in the "Litigation: Securities: Plaintiff" category. Of Counsel Lea Bays also received high rankings in the "E-Discovery & Information Governance" category in both the USA and Global Guides.
For over 20 years, managing partner Darren has served as lead counsel in over a hundred securities class actions, recovering billions of dollars for defrauded shareholders. "Darren Robbins is routinely called on by shareholders for representation in big-ticket securities class actions," stated the publication. This recognition is the eighth consecutive year that he has been selected for inclusion in the USA Guide by Chambers.
Randy has been recognized six consecutive years by Chambers, and was commended for his "strong reputation among securities practitioners." For over 20 years, he has worked to advance the practice of shareholder merger and acquisition litigation to achieve substantial monetary recoveries for shareholders.
Receiving the ranking for the first year, Paul has more than 27 years of litigation experience, and Chambers praised him for his "strong civil disputes practice [which] includes acting on a wide range of product liability disputes and class actions." He was also regarded by his peers as a "credible, stand-up and go-to guy across many areas."
Sam, also a managing partner, has been ranked for eight consecutive years, with the publication recognizing Sam for "regularly achiev[ing] significant settlements for investor clients against financial institutions and corporate issuers in securities and shareholder class actions." He is a former attorney with the U.S. Securities and Exchange Commission and has practiced securities litigation for over 25 years, recovering hundreds of millions of dollars for shareholders.
Ranked both globally and in the USA publication, Lea has been recognized for three consecutive years, with Chambers praising Lea for being "well versed in all aspects of e-discovery[, lending] her expertise to plaintiffs across a range of litigation, including securities actions, business disputes, antitrust and fraud." Lea also provides counsel to the Firm's multi-disciplinary e-discovery team consisting of attorneys, forensic analysts, and database professionals.
Robbins Geller attorneys are "[t]op-flight plaintiff litigators offering quality representation for institutional investors and pension funds, as well as a number of other clients in the financial industry . . . [with a] [p]roven track record of winning high-value settlements," concluded Chambers.
Chambers & Partners identifies the most outstanding law firms and lawyers in over 180 jurisdictions throughout the world. Its annual publication Chambers USA ranks attorneys and law firms that have a global presence and are widely considered to be the best in their areas of practice. Chambers rankings range between Band 1 and Band 6 for each area of law, with Band 1 being the highest ranking a firm and/or individual lawyer can receive. The qualities on which rankings are assessed include technical legal ability, professional conduct, client service, commercial astuteness, diligence, commitment, and other qualities most valued by the client. The editors speak to both attorneys and clients, conducting in-depth interviews, and also take into account information submitted by law firms, which allows them a wide range of material on which to base their rankings. For more on Chambers USA methodology, visit its website.