PDF
Robbins Geller Attorneys Recognized in The Best Lawyers in America® and The Best Lawyers in America: Ones to Watch®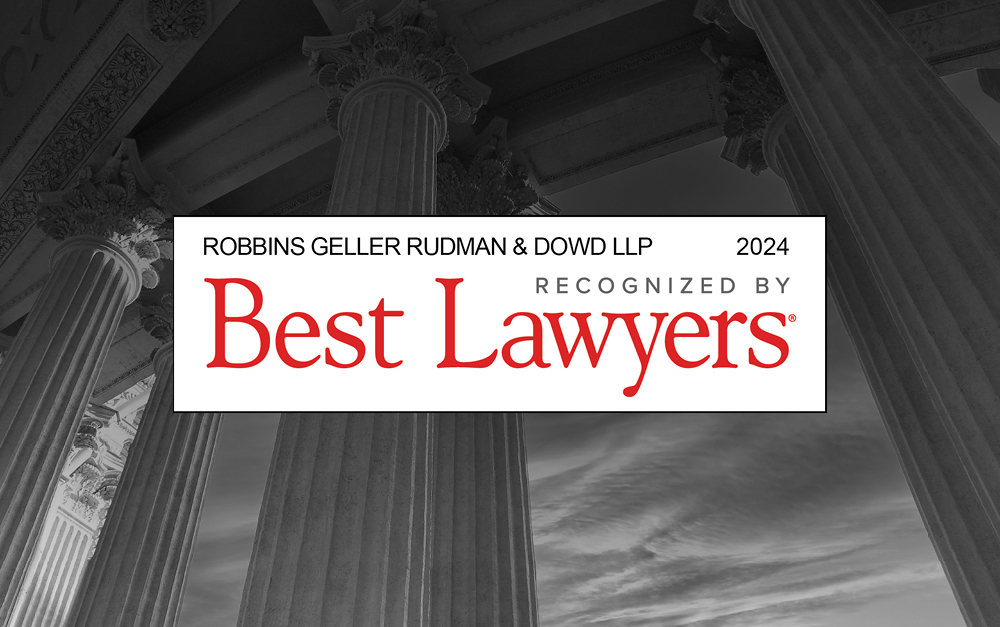 August 17, 2023
20 Robbins Geller Rudman & Dowd LLP attorneys were recognized in The Best Lawyers in America®, and 22 attorneys were recognized in The Best Lawyers in America: Ones to Watch® 2024 editions.
A. Rick Atwood, Jr., Randall J. Baron, Aelish Marie Baig, Spencer A. Burkholz, Joseph D. Daley, Mark J. Dearman, Michael J. Dowd, Travis E. Downs III, Daniel S. Drosman, Thomas E. Egler, Paul J. Geller, Tor Gronborg, Dennis J. Herman, Rachel L. Jensen, Arthur C. Leahy, David W. Mitchell, Darren Robbins, Trig Smith, Lindsey H. Taylor, and Shawn A. Williams were recognized in The Best Lawyers in America®. Daniel Drosman was also named "Lawyer of the Year" in San Diego in the Mass Tort Litigation/Class Actions – Plaintiffs category.
Mario Alba Jr., Darryl J. Alvarado, Lonnie A. Browne, Jennifer N. Caringal, Alina Davis, Hadiya K. Deshmukh, Kathleen B. Douglas, William J. Geddish, Robert D. Gerson, Benny C. Goodman III, Bailie L. Heikkinen, Ashley M. Kelly, Christopher H. Lyons, Erika Oliver, Ashley M. Price, Willow E. Radcliffe, Andrew T. Rees, Robert J. Robbins, Vincent M. Serra, Taeva C. Shefler, Sabrina E. Tirabassi, and Christopher M. Wood were recognized in The Best Lawyers in America: Ones to Watch®.
Robbins Geller attorneys are litigating key cases in securities litigation and consumer litigation, including a nationwide multi-district litigation prosecuting pharmacies, distributors, and others for their roles in facilitating the opioid crisis. The Firm's cases include:
About Robbins Geller

Robbins Geller Rudman & Dowd LLP is one of the world's leading complex litigation firms, representing plaintiffs in securities fraud, shareholder derivative, antitrust, corporate takeover, and consumer fraud and privacy cases. With 200 lawyers in 9 offices, Robbins Geller is one of the world's largest plaintiffs' firms, and the Firm's attorneys have obtained many of the largest securities, antitrust, and consumer class action recoveries in history.

The Firm is ranked #1 on the most recent ISS Securities Class Action Services Top 50 Report for recovering more than $1.75 billion for investors in 2022 — the third year in a row Robbins Geller tops the list. And in those three years alone, Robbins Geller recovered nearly $5.3 billion for investors, more than double the amount recovered by any other plaintiffs' firm. The Firm secured the largest-ever securities fraud class action settlement — $7.2 billion — in In re Enron Corp. Securities Litigation.

For media inquiries, please contact media@rgrdlaw.com or call (619) 338-3821.
Read More Awards
September 14, 2023

September 5, 2023

August 25, 2023

August 2, 2023

July 13, 2023