PDF
42 Robbins Geller Attorneys Honored as Leading Plaintiff Financial Lawyers by Lawdragon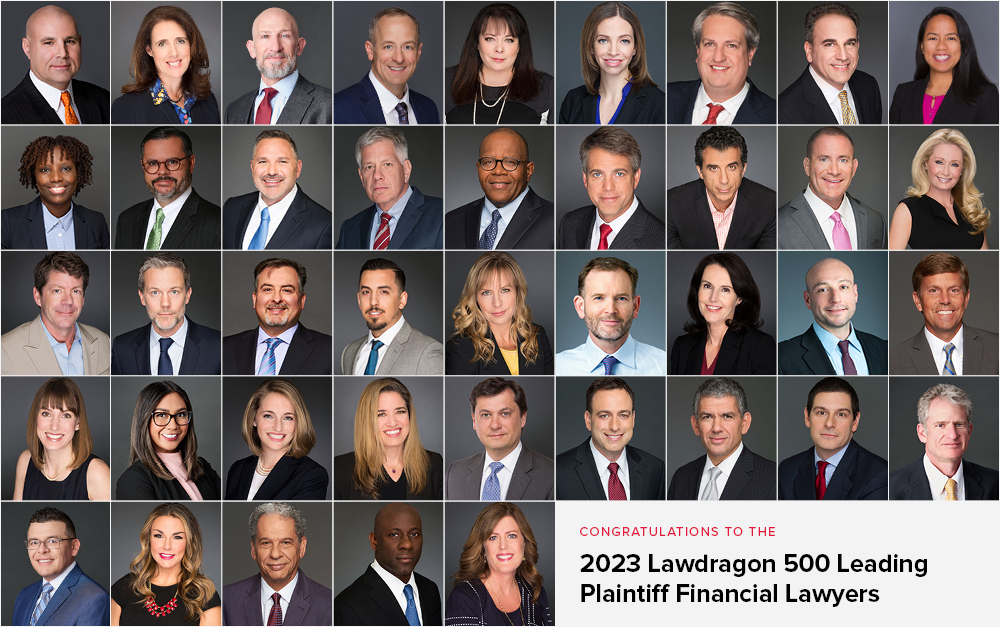 May 30, 2023
Lawdragon selected 42 Robbins Geller Rudman & Dowd LLP partners as 500 Leading Plaintiff Financial Lawyers. The honorees include partners from six of the Firm's offices who have litigated many record-setting antitrust, breach of fiduciary duty, consumer class action, and securities fraud cases throughout their careers.
Earlier this year, eight Robbins Geller attorneys were recognized as Leading Plaintiff Consumer Lawyers, and 16 Robbins Geller attorneys were recognized as Leading Lawyers by Lawdragon. The annual 500 Leading Plaintiff Financial Lawyers guide recognizes achievements of exceptional plaintiffs' attorneys in the past year. To learn more about Lawdragon's methodology, click here.
In 2022, Robbins Geller attorneys:
Partners A. Rick Atwood, Jr., Aelish Marie Baig, Randall J. Baron, James E. Barz, Alexandra S. Bernay, Erin W. Boardman, Luke O. Brooks, Spencer A. Burkholz, Jennifer N. Caringal, Desiree Cummings, Stuart A. Davidson, Mark J. Dearman, Michael J. Dowd, Travis E. Downs III, Daniel S. Drosman, Jason A. Forge, Paul J. Geller, Elise J. Grace, Tor Gronborg, Robert R. Henssler, Jr., James I. Jaconette, J. Marco Janoski Gray, Rachel L. Jensen, Chad Johnson, Laurie L. Largent, Noam Mandel, David W. Mitchell, Danielle S. Myers, Erika Oliver, Ashley M. Price, Willow E. Radcliffe, Darren Robbins, Robert J. Robbins, Robert M. Rothman, Samuel H. Rudman, Joseph Russello, Scott H. Saham, Juan Carlos Sanchez, Jessica T. Shinnefield, Mark Solomon, Shawn A. Williams, and Debra J. Wyman were selected for the guide.
The full Lawdragon guide is available here: https://www.lawdragon.com/guides/2023-05-26-the-2023-lawdragon-500-leading-plaintiff-financial-lawyers
About Robbins Geller

Robbins Geller Rudman & Dowd LLP is one of the world's leading complex litigation firms, representing plaintiffs in securities fraud, shareholder derivative, antitrust, corporate takeover, and consumer fraud and privacy cases. With 200 lawyers in 9 offices, Robbins Geller is one of the world's largest plaintiffs' firms, and the Firm's attorneys have obtained many of the largest securities, antitrust, and consumer class action recoveries in history.

The Firm is ranked #1 on the most recent ISS Securities Class Action Services Top 50 Report for recovering more than $1.75 billion for investors in 2022 – the third year in a row Robbins Geller tops the list. And in those three years alone, Robbins Geller recovered nearly $5.3 billion for investors, more than double the amount recovered by any other plaintiffs' firm. The Firm secured the largest-ever securities fraud class action settlement — $7.2 billion — in In re Enron Corp. Securities Litigation.

For media inquiries, please contact media@rgrdlaw.com or call (619) 338-3821.
Read More Awards
September 14, 2023

September 5, 2023

August 25, 2023

August 17, 2023

August 2, 2023