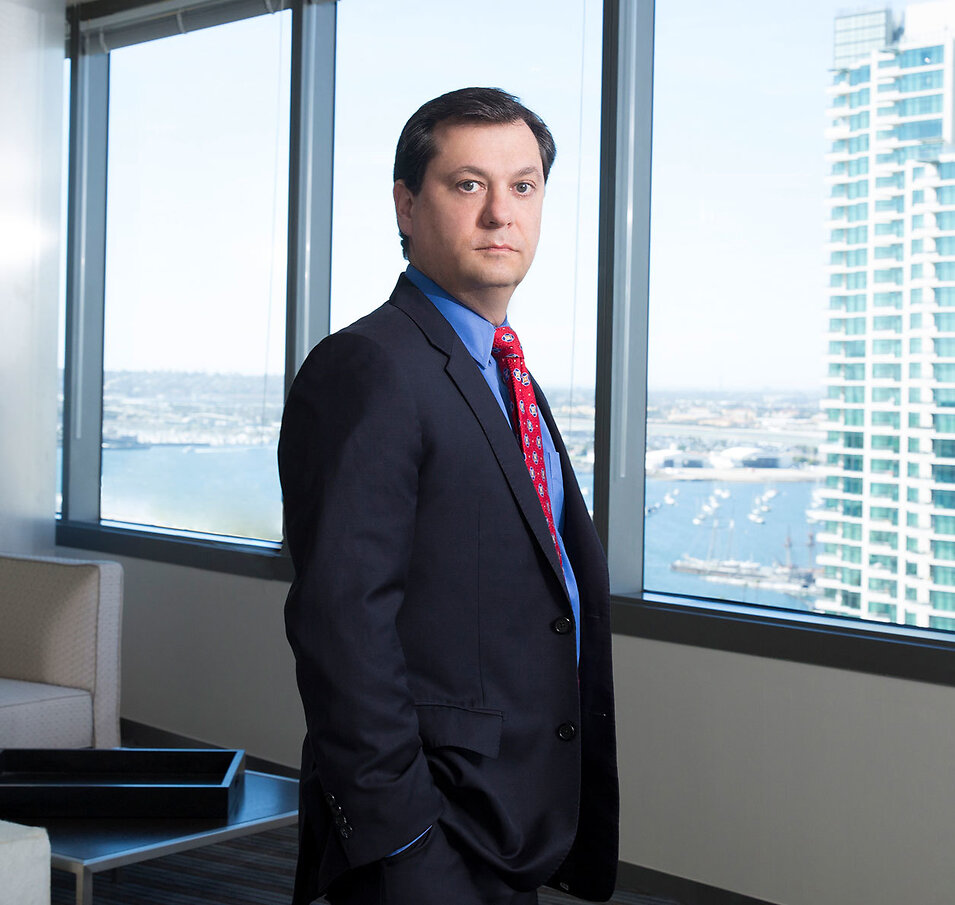 Darren J. Robbins
Partner
Email
PDF
The strength of our commitment to excellence is reflected in our unmatched record of success.
Overview
Darren Robbins is a founding partner of Robbins Geller Rudman & Dowd LLP. Over the last two decades, Darren has served as lead counsel in more than 100 securities class actions and has recovered billions of dollars for investors.
Darren served as lead counsel in In re Am. Realty Cap. Props., Inc. Litig., a securities class action arising out of improper accounting practices, recovering more than $1 billion for class members. The American Realty settlement represents the largest recovery as a percentage of damages of any major class action brought pursuant to the Private Securities Litigation Reform Act of 1995 and resolved prior to trial. The $1+ billion settlement included the largest personal contributions ($237.5 million) ever made by individual defendants to a securities class action settlement.
Darren also led Robbins Geller's prosecution of wrongdoing related to the sale of residential mortgage-backed securities (RMBS) prior to the global financial crisis, including an RMBS securities class action against Goldman Sachs that yielded a $272 million recovery for investors. Darren served as co-lead counsel in connection with a $627 million recovery for investors in In re Wachovia Preferred Securities & Bond/Notes Litig., one of the largest securities class action settlements ever involving claims brought solely under the Securities Act of 1933.
One of the hallmarks of Darren's practice has been his focus on corporate governance reform. In UnitedHealth, a securities fraud class action arising out of an options backdating scandal, Darren represented lead plaintiff CalPERS and obtained the cancellation of more than 3.6 million stock options held by the company's former CEO and secured a record $925 million cash recovery for shareholders. He also negotiated sweeping corporate governance reforms, including the election of a shareholder-nominated director to the company's board of directors, a mandatory holding period for shares acquired via option exercise, and compensation reforms that tied executive pay to performance. Recently, Darren led a shareholder derivative action brought by several pension funds on behalf of Community Health Systems, Inc. that yielded a $60 million payment to Community Health as well as corporate governance reforms that included two shareholder-nominated directors, the creation and appointment of a Healthcare Law Compliance Coordinator, the implementation of an executive compensation clawback in the event of a restatement, the establishment of an insider trading controls committee, as well as the adoption of a political expenditure disclosure policy.
Darren was named California Lawyer's Attorney of the Year and has been recognized as one of the nation's top securities litigators by numerous organizations and publications, including The American Lawyer, which commended him for helping "set the pace for [his] peers," and Chambers USA, which called him "a prominent figure in the field of securities litigation" and "one of the leaders of the plaintiff Bar." Darren was also recognized as a Litigator of the Week by The American Lawyer for his work in In re Valeant Pharms. Int'l, Inc. Sec. Litig. Darren was awarded California Lawyer of the Year by the Daily Journal for 2022, and Lawyer of the Year by Best Lawyers® for 2023.
Awards
Best Lawyer in America, Best Lawyers®, 2010-2024
Hall of Fame, The Legal 500, 2023
Leading Lawyer, Chambers USA, 2014-2023
Lawyer of the Year: Litigation – Securities, Best Lawyers®, 2023
Leading Lawyer, The Legal 500, 2020-2022
California Lawyer of the Year, Daily Journal, 2022
Recognized as one of the Top 50 Lawyers in San Diego, Super Lawyers Magazine, 2015, 2021
Litigator of the Week, The American Lawyer, 2021

Southern California Best Lawyer,

Best Lawyers®, 2012-2021
Local Litigation Star, Benchmark Litigation, 2013-2018, 2020
Recommended Lawyer, The Legal 500, 2011, 2017, 2019
Benchmark California Star, Benchmark Litigation, 2019
State Litigation Star, Benchmark Litigation, 2019
Lawyer of the Year, Best Lawyers®, 2017
Influential Business Leader, San Diego Business Journal, 2017
Litigator of the Year, Our City San Diego, 2017
Recognized as one of the Top 100 Lawyers Shaping the Future, Daily Journal, 2008
Recognized as a Young Litigator 45 and Under, The American Lawyer, 2007
2003 Attorney of the Year Award, presented by California Lawyer, March 2004
Practice Areas
Institutional Investor Services
Education
Vanderbilt School of Law, J.D., 1993
University of Southern California, M.A., 1990
University of Southern California, B.S., 1990
Admissions
California
United States Supreme Court
United States Courts of Appeals for the Second and Ninth Circuits
United States District Courts for the Northern, Eastern, Central and Southern Districts of California
United States District Court for the District of Colorado
United States District Court for the Eastern District of Wisconsin
Publications
Publications
Darren J. Robbins, Reining in Unicorns: Protecting Pensioners and Entrepreneurs From Fraud,

The Recorder, Apr. 9, 2018.

Darren Robbins, James Jaconette & Michael Albert, After Cyan: Creative Lawyering Can't Displace Clear Statute, Law360, Mar. 26, 2018.
Travis E. Downs III, Benny C. Goodman III, Jay P. Lefkowitz, Erik W. Luedeke, Darren J. Robbins & Matthew Solum, Chapter 4: Mediation Submissions by Plaintiffs and Defendants, in Financial Services Mediation Answer Book 4-1 (Layn R. Phillips et al. ed., 2017).