PDF
The Daily Journal Honors Three Robbins Geller Litigators as California Lawyers of the Year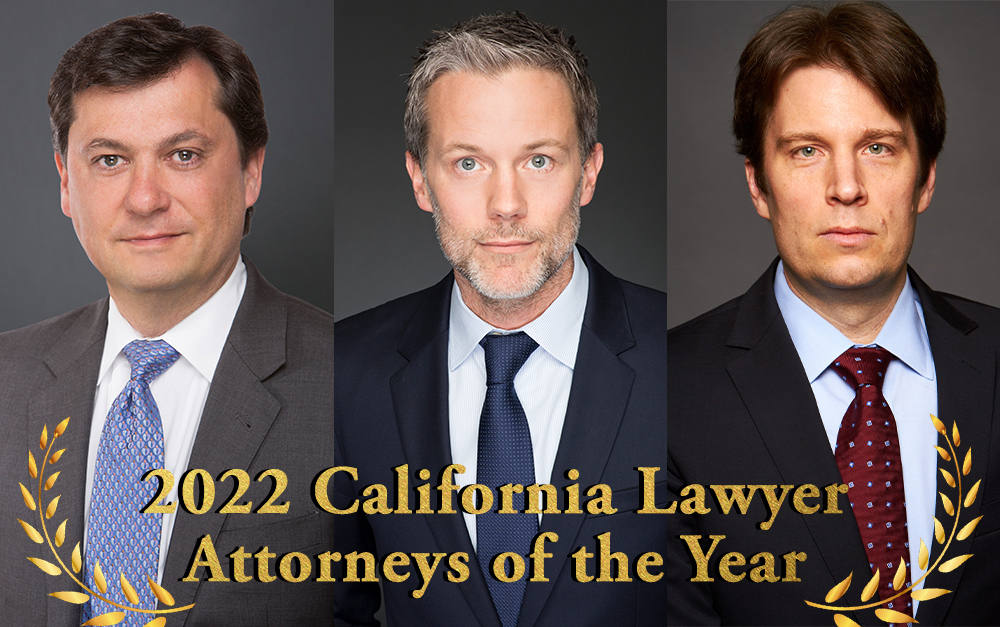 April 7, 2022
Last week, the Daily Journal honored Darren J. Robbins, Robert R. Henssler, Jr., and Christopher R. Kinnon as California Lawyers of the Year for recovering $1.21 billion for investors in a "high-stakes chess game" case against Valeant Pharmaceuticals.
Darren Robbins noted that the case has been referred to as the "'pharmaceutical Enron'" based on the "'carefully orchestrated'" accounting manipulations alleged.
Valeant, now known as Bausch Health, was alleged to have used deceptive price-gouging practices by acquiring pre-existing drugs, then rapidly raising prices, while secretly controlling a distribution network to boost sales. Valeant and its senior insiders are alleged to have concealed the fact that the company's financial performance was rooted in anticompetitive and deceptive practices.
Several executives linked to the Valeant scandal were prosecuted and convicted of federal offenses. In awarding the CLAY to Robbins and his team, the Daily Journal noted the role of private securities litigation and the "acumen of the Robbins Geller firm" in obtaining redress for investors.
The Daily Journal called the resulting recovery – the 9th largest securities class action recovery ever – a "stunning" result.
This is the second time that Robbins has been honored as a recipient of a CLAY award and the fourth time the Firm has been so honored.
The full article is available here: https://www.dailyjournal.com/articles/366772-private-action-plays-key-securities-enforcement-role.
Robbins Geller Rudman & Dowd LLP is one of the world's leading complex litigation firms, representing plaintiffs in securities fraud, antitrust, corporate takeover, consumer fraud and privacy, multi-district litigation, and shareholder derivative cases. With 200 lawyers in 9 offices, Robbins Geller has obtained many of the largest securities, antitrust, and consumer class action recoveries in history.
For media inquiries, please contact media@rgrdlaw.com or call (619) 338-3821.
Read More Firm News