PDF
"Collaborative Loss Recovery: Canadian Pension Plans Leading the Way" Featured in Plans & Trusts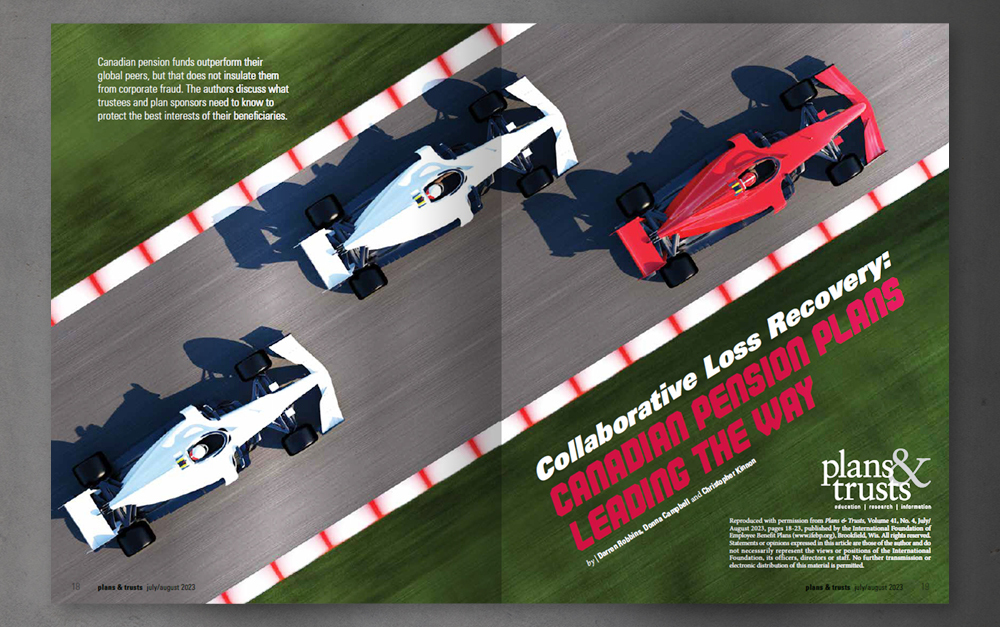 July 20, 2023
Canadian pension funds have "'always punched above their weight,'" according to recent studies. As some of the world's leading institutional investors, Canadian funds have a critically important role to play in recovering assets lost to fraud, which is the focus of a recent article in the International Foundation of Employee Benefit Plans magazine Plans & Trusts by Robbins Geller Rudman & Dowd LLP securities litigation experts.
Entitled "Collaborative Loss Recovery: Canadian Pension Plans Leading the Way," the article highlights how Canadian institutional investors serve a critical role in U.S. securities class actions.
The article reviews the fiduciary duties of Canadian funds with respect to loss recovery, the value of securities litigation matters to Canadian funds, and recent case examples.
Recent corporate scandals and market volatility "underscore the importance of careful vigilance by Canadian pension funds' trustees and staff" and the importance of the role of Canadian funds in advancing litigation to maximize fund recoveries and promote stronger governance, transparency, and fairer markets.
Read the full Plans & Trusts article here.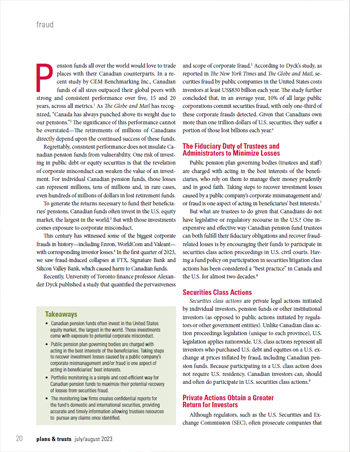 ---
About Robbins Geller

Robbins Geller Rudman & Dowd LLP is one of the world's leading complex litigation firms, representing plaintiffs in securities fraud, shareholder derivative, antitrust, corporate takeover, and consumer fraud and privacy cases. With 200 lawyers in 9 offices, Robbins Geller is one of the world's largest plaintiffs' firms, and the Firm's attorneys have obtained many of the largest securities, antitrust, and consumer class action recoveries in history.

The Firm is ranked #1 on the most recent ISS Securities Class Action Services Top 50 Report for recovering more than $1.75 billion for investors in 2022 – the third year in a row Robbins Geller tops the list. And in those three years alone, Robbins Geller recovered nearly $5.3 billion for investors, more than double the amount recovered by any other plaintiffs' firm. The Firm secured the largest-ever securities fraud class action settlement — $7.2 billion — in In re Enron Corp. Securities Litigation.

For media inquiries, please contact media@rgrdlaw.com or call (619) 338-3821.
Read More Firm News
September 26, 2023

September 21, 2023

September 14, 2023

September 13, 2023

August 23, 2023