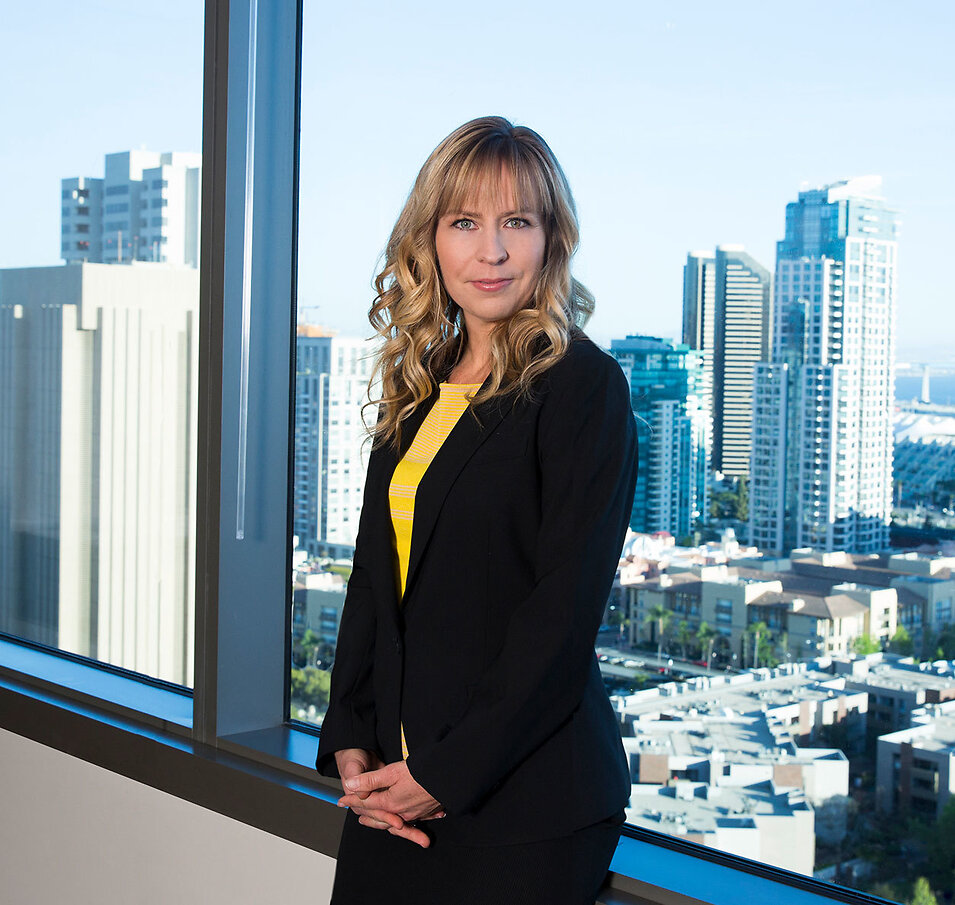 Rachel L. Jensen
Partner
Email
PDF
Every day, we go toe-to-toe with well-heeled corporations to hold them accountable to working folks, while maintaining the highest level of professionalism.
Overview
Rachel Jensen is a partner in Robbins Geller Rudman & Dowd LLP's San Diego office. Her practice focuses on consumer, antitrust and securities fraud class actions. Jensen has played a key role in recovering billions of dollars for individuals, government entities, and businesses injured by fraudulent schemes, anti-competitive conduct, and hazardous products placed in the stream of commerce.
Jensen was one of the lead attorneys who secured a historic recovery on behalf of Trump University students nationwide in two class actions against President Donald J. Trump. The settlement provides $25 million to approximately 7,000 consumers, which is projected to compensate eligible class members for up to 90% of their out-of-pocket losses. She represented the class on a pro bono basis. Jensen was appointed by Judge Chen in the Northern District of California to serve on the plaintiffs' steering committee in MDL litigation concerning alleged defeat devices in certain Fiat Chrysler vehicles and also represents car owners suing Volkswagen and Bosch for cheating on emission testing. She also serves as one of class counsel in litigation against Scotts Miracle-Gro, which has pled guilty to selling poisonous bird food, and litigation against certain Lloyd's Syndicates for collusive practices in the Lloyd's of London insurance market.
Among other recoveries, Jensen has played significant roles in the following cases: In re Ins. Brokerage Antitrust Litig., No. 04-5184(CCC) (D.N.J.) ($200 million recovered for policyholders who paid inflated premiums due to a kickback scheme among major insurers and brokers); In re Mattel, Inc., Toy Lead Paint Prods. Liab. Litig., No. 2:07-ml-01897-DSF-AJW (C.D. Cal.) ("Mattel") ($50 million in refunds and other relief for Mattel and Fisher-Price toys made in China with lead and dangerous magnets); In re Nat'l Western Life Ins. Deferred Annuities Litig., No. 05-CV-1018-GPC (WVG) (S.D. Cal.) ($25 million in relief to senior citizens targeted for exorbitant deferred annuities that would not mature in their lifetime); In re Checking Account Overdraft Litig., No. 1:09-md-2036-JLK (S.D. Fla.) ($500 million in settlements with major banks that manipulated customers' debit transactions to maximize overdraft fees); In re Groupon Mktg. & Sales Practices Litig., No. 3:11-md-02238-DMS-RBB (S.D. Cal.) ($8.5 million in refunds for consumers sold vouchers with illegal expiration dates).
An important part of resolving these class cases has been the cutting-edge business reforms agreed to by the defendants to ensure that the same misconduct does not happen again. See, e.g., Mattel (settlement required greater quality control and quality assurance programs for toys manufactured in China to make sure children are not put in harm's way in the future); The People of the State of California by and through John Garamendi, Insurance Commissioner of the State of California v. Universal Life Resources, No. GIC838913 (Cal. Super. Ct., San Diego Cty.) (representing California Department of Insurance against five large employee benefit insurance companies and securing transparency in how brokers disclose compensation from insurers to policyholders).
Jensen has also helped to successfully prosecute securities fraud and shareholder derivative actions, securing comprehensive corporate governance enhancements that are a win-win for shareholders and society alike. See, e.g., City of Westland Police & Fire Ret. Sys. v. Stumpf, No. 3:11-cv-02369-SI (N.D. Cal.) (in a case alleging widespread "robo-signing" of foreclosure affidavits, Wells Fargo agreed to provide $67 million in homeowner down-payment assistance and credit counseling for cities hardest hit by the foreclosure crisis, as well as computer integration for its mortgage servicing segments).
Jensen served as a panelist at the 2017 Federal Bar Association Women in Law Conference, discussing the roles of grit and risk-taking in breaking barriers for women and people of color in the legal profession. She has received local recognition and commendation for her human rights work, advocating on behalf of the homeless, including a nomination as San Diego Woman of the Year from San Diego Magazine. Jensen co-founded Think Dignity (formerly Girls Think Tank), a non-profit organization whose mission is to advance basic dignity in San Diego, for which she served as President from 2006-2011 and has served on the Board of Directors since its inception. Think Dignity runs the Transitional Storage Center for the homeless downtown, provides a free legal clinic and a mobile shower service called "Fresh Start" Showers, and leads a "Basic Dignity Coalition," which has secured funding for two 24/7 public restrooms in the East Village. The first of these restrooms opened to the public in December 2014.
Jensen has been named a Top Woman Lawyer by the Daily Journal, a Plaintiffs' Lawyer Trailblazer by The National Law Journal, and a Leading Lawyer in America by Lawdragon. Additionally, she has been recognized as a "Rising Star" by Super Lawyers Magazine, as well as a Super Lawyer for the last three years. Prior to joining the Firm, Jensen was part of the litigation department of Morrison & Foerster in San Francisco, clerked for the Honorable Warren J. Ferguson on the Ninth Circuit Court of Appeals, worked abroad in Arusha, Tanzania as a law clerk in the Office of the Prosecutor at the International Criminal Tribunal for Rwanda ("ICTR") and then worked at the International Criminal Tribunal for the Former Yugoslavia ("ICTY"), located in the Hague, Netherlands.
Jensen earned a Bachelor of Arts degree from Florida State University, where she was a member of Phi Beta Kappa, and graduated cum laude. Jensen received her Juris Doctor degree from Georgetown University Law School, where she served as Inaugural Editor-in-Chief of the First Annual Review of Gender and Sexuality Law, a publication of the Georgetown Journal of Gender and the Law. She also taught Street Law at a public high school in Washington, D.C.
Awards
Plaintiffs' Lawyer Trailblazer, The National Law Journal, 2018
Leading Lawyer in America, Lawdragon, 2017-2018

Super Lawyer, 2016-2018

Top Woman Lawyer, Daily Journal, 2017
Super Lawyer "Rising Star," 2015
Nominated for 2011 Woman of the Year, San Diego Magazine
Education
Georgetown University Law School, J.D., 2000
Editor-in-Chief, First Annual Review of Gender and Sexuality Law
Dean's List, 1998-1999
Florida State University, B.A., 1997, cum laude
Admissions
California
United States Courts of Appeals for the Sixth, Seventh, Eighth and Ninth Circuits
United States District Courts for the Northern, Eastern, Central and Southern Districts of California
United States District Court for the Northern District of Illinois
Notable Cases
Notable Cases
News
June 13, 2018

May 1, 2018

March 30, 2018

March 19, 2018

February 6, 2018

October 23, 2017

September 12, 2017

August 25, 2017

June 19, 2017

May 24, 2017

April 27, 2017

April 4, 2017

March 31, 2017

January 20, 2017

November 18, 2016

January 20, 2016

August 5, 2015

July 1, 2015

March 5, 2015

February 2, 2015

November 6, 2014

October 28, 2014

June 3, 2014

February 24, 2014

December 12, 2012

October 17, 2011

October 14, 2009