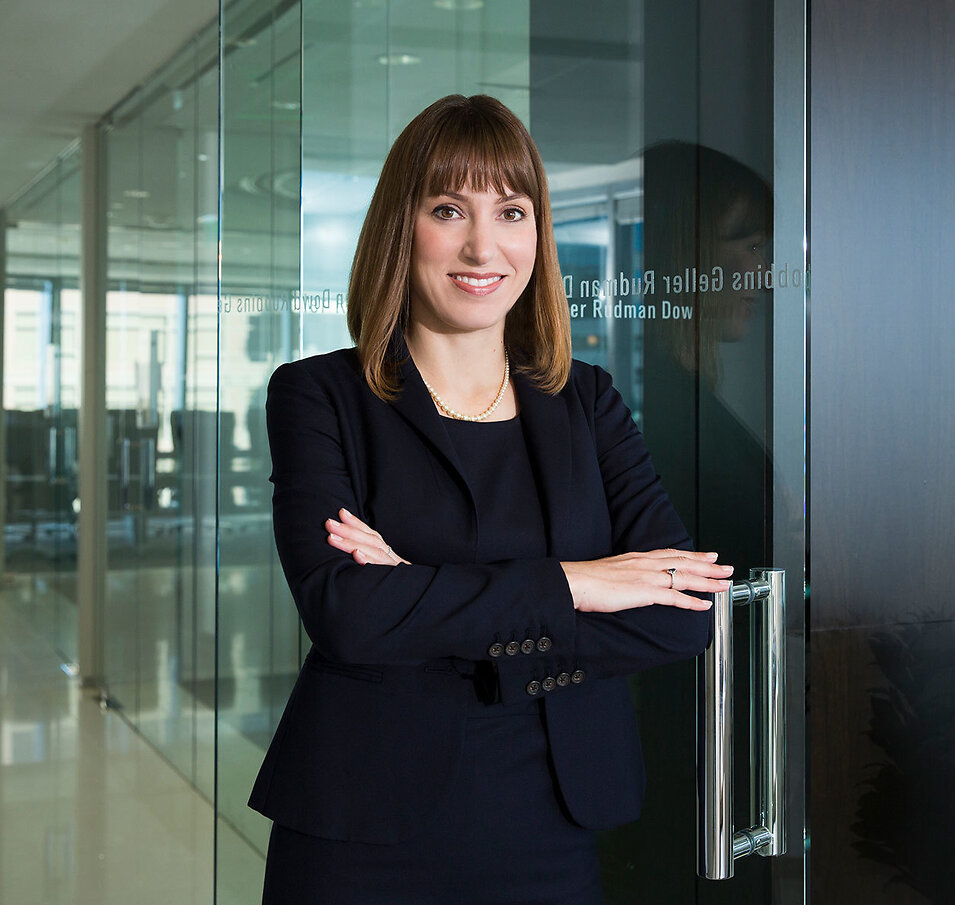 Danielle S. Myers
Partner
Email
PDF
An unwavering focus on shareholder rights and our commitment to excellence makes the Firm an inspiring place to practice law.
Overview
Danielle Myers is a partner in Robbins Geller Rudman & Dowd LLP's San Diego office and focuses her practice on complex securities litigation. Danielle is one of the partners that oversees the Portfolio Monitoring Program® and provides legal recommendations to the Firm's institutional investor clients on their options to maximize recoveries in securities litigation, both within the United States and internationally, from inception to settlement. In addition, Danielle advises the Firm's clients in connection with lead plaintiff applications and has secured appointment of the Firm's clients as lead plaintiff in over 100 cases, including Knurr v. Orbital ATK, Inc., No. 1:16-cv-01031 (E.D. Va.), Evellard v. LendingClub Corp., No. 3:16-cv-02627 (N.D. Cal.), In re Plains All American Pipeline, L.P. Sec. Litig., No. 4:15-cv-02404 (S.D. Tex.), Marcus v. J.C. Penney Co., Inc., No. 6:13-cv-00736 (E.D. Tex.), In re Hot Topic, Inc. Sec. Litig., No. 2:13-cv-02939 (C.D. Cal.), Smilovits v. First Solar, Inc., No. 2:12-cv-00555 (D. Ariz.), and In re Goldman Sachs Grp., Inc. Sec. Litig., No. 1:10-cv-03461 (S.D.N.Y.).
Danielle has obtained significant recoveries for shareholders in several cases, including: Marcus v. J.C. Penney Co., Inc., No. 13-cv-00736 (E.D. Tex.) ($97.5 million recovery); In re Hot Topic, Inc. Sec. Litig., No. 2:13-cv-02939 (C.D. Cal.) ($14.9 million recovery); Genesee Cty. Emps.' Ret. Sys. v. Thornburg Mortg., Inc., No. 1:09-cv-00300 (D.N.M.) ($11.25 million recovery); Goldstein v. Tongxin Int'l Ltd., No. 2:11-cv-00348 (C.D. Cal.) ($3 million recovery); and Lane v. Page, No. Civ-06-1071 (D.N.M.) (pre-merger increase in cash consideration and post-merger cash settlement).
Danielle has been named a "Next Generation Lawyer" by The Legal 500 and was named one of "Five Associates to Watch in 2012" by the Daily Journal. In 2011 and 2010, she was nominated for the San Diego Daily Transcript's Top Attorney and Young Attorneys awards, respectively. In addition, Danielle has been named a Future Star by Benchmark Litigation.
Danielle is a frequent lecturer on securities fraud and corporate governance reform at conferences and events around the world. Her recent speaking engagements include the ABA 5th Annual Western Regional CLE Program on Class Actions and Mass Torts on June 22, 2018 where she spoke about The Proliferation of Class Action Opt-Out Litigation: Prosecuting, Defending, and Settling Direct Actions. In March 2018, Danielle also taught a course at UC Berkeley School of Law on Securities Litigation: The Plaintiff's Perspective.
Danielle earned her Bachelor of Arts degree from the University of California at San Diego, with a major in U.S. History and a minor in Political Science. She earned her Juris Doctor degree from the University of San Diego, where she was a member of the San Diego Law Review and received a CALI Excellence Award in Statutory Interpretation.
Awards
Future Star, Benchmark Litigation, 2019
Super Lawyer "Rising Star," 2015-2018
Next Generation Lawyer, The Legal 500, 2017-2018
"Five Associates to Watch in 2012," Daily Journal
Practice Areas
Institutional Investor Services
Education
University of San Diego, J.D., 2008
Member, San Diego Law Review
Received a CALI Excellence Award in Statutory Interpretation
University of California at San Diego, B.A., 1997
Admissions
California
United States Courts of Appeals for the Ninth and Tenth Circuits
United States District Courts for the Northern, Central and Southern Districts of California
United States District Court for the District of Colorado
United States District Court for the Northern District of Illinois (General Bar)
United States District Court for the Eastern District of Michigan
News
April 10, 2019

January 10, 2019

October 30, 2018

September 5, 2018

July 11, 2018

June 13, 2018

May 30, 2018

April 2, 2018

March 30, 2018

January 31, 2018

September 12, 2017

May 31, 2017

April 24, 2017

March 13, 2017

January 20, 2017

December 28, 2016

September 19, 2016

May 17, 2016

February 11, 2016

January 20, 2016

December 7, 2015

August 5, 2015

February 2, 2015

November 4, 2014

September 29, 2014

April 19, 2012

January 31, 2012
Professional Affiliations
ABA Section of Litigation, Securities Litigation Committee, Class Actions Subcommittee Co-Chair 2017-2018
Member, American Bar Association
Member, Federal Bar Association
Member, San Diego County Bar Association
Featured Seminars & Speaking Engagements
ABA 5th Annual Western Regional CLE Program on Class Actions and Mass Torts: The Proliferation of Class Action Opt-Out Litigation: Prosecuting, Defending, and Settling Direct Actions, San Francisco, California, June 22, 2018
UC Berkeley School of Law: Securities Litigation: The Plaintiff's Perspective, Berkeley, California, March 2018
2017 ABA Women in Litigation Joint Conference, Latest Developments in Securities Class Action Litigation, Philadelphia, Pennsylvania, November 16, 2017

2017 ABA National Institute on US-Canadian Securities Litigation, Securities Class Action Update – Trends in the U.S. and Canada, Toronto, Ontario, Canada, October 4, 2017