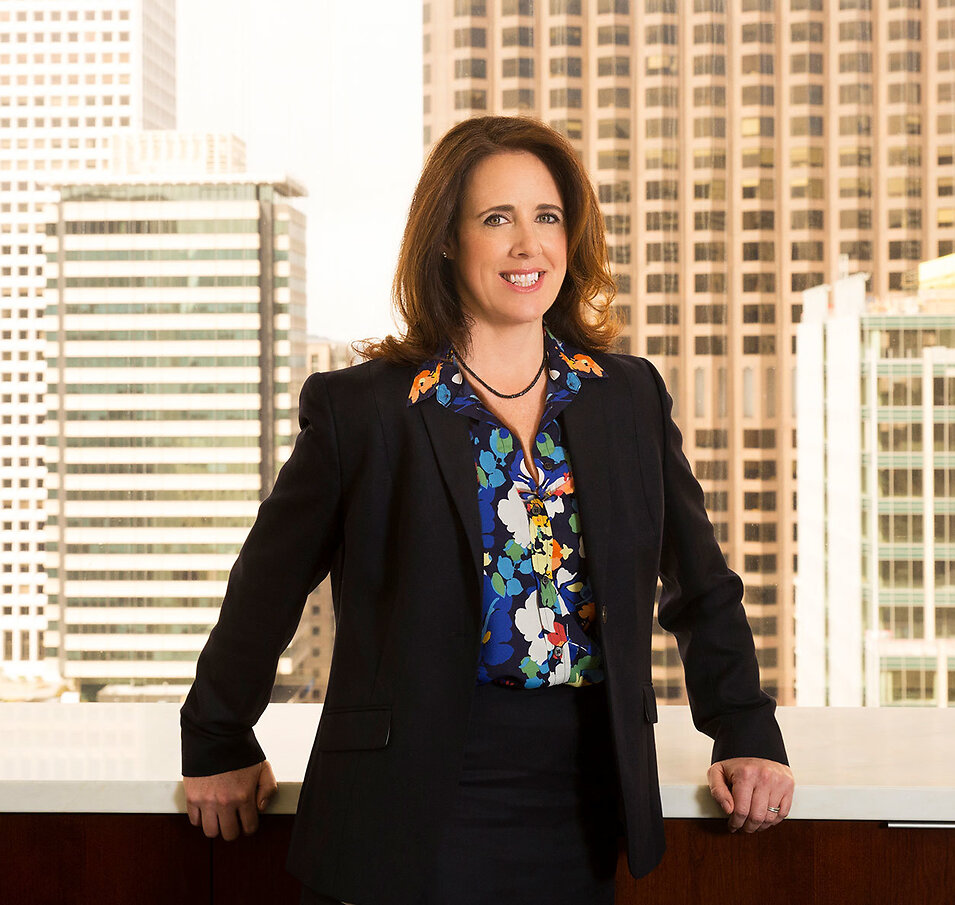 Aelish Marie Baig
Partner
Email
PDF
We are committed to seeking justice for our clients by uncovering and revealing the truth, using wisdom, skill and perseverance.
Overview
Aelish Marie Baig is a partner in Robbins Geller Rudman & Dowd LLP's San Francisco office. She specializes in federal securities and consumer class actions. She focuses primarily on securities fraud litigation on behalf of individual and institutional investors, including state and municipal pension funds, Taft-Hartley funds, and private retirement and investment funds. Aelish has litigated a number of cases through jury trial, resulting in multi-million dollar awards and settlements for her clients, and has prosecuted securities fraud, consumer, and derivative actions obtaining millions of dollars in recoveries against corporations such as Wells Fargo, Verizon, Celera, Pall, and Prudential.
Aelish, along with co-counsel and a team of Robbins Geller attorneys, is currently leading the effort on behalf of cities and counties around the country in In re National Prescription Opiate Litigation. In 2022, Aelish served as co-trial counsel in a federal bench trial in San Francisco in a case that had been selected as a bellwether in the multi-district litigation. The team achieved combined settlements of nearly $70 million for San Francisco and more than $50 billion nationally from multiple pharmaceutical companies who were defendants in the national litigation. The Honorable Charles R. Breyer of the Northern District of California ruled that Walgreens, the only defendant remaining in the San Francisco case, was liable for its role in the opioid crisis in San Francisco.
Aelish has also been appointed to the Plaintiffs' Steering Committee in In re Juul Labs, Inc., Marketing, Sales Practices, and Product Liability Litigation, currently pending before the Honorable William H. Orrick in the Northern District of California. She serves on the expert and trial committees and represents, among others, one of the trial bellwethers. Aelish and her team have recently completed discovery and are currently preparing for expert reports and trial. She has also been appointed by the Honorable Charles R. Breyer in the Northern District of California to the Plaintiffs' Steering Committee in In re McKinsey & Co., Inc. National Prescription Opiate Consultant Litigation.
Additionally, Aelish prosecuted an action against Wells Fargo's directors and officers accusing the giant of engaging in the robosigning of foreclosure papers so as to mass-process home foreclosures, a practice which contributed significantly to the 2008-2009 financial crisis. The resulting settlement was worth more than $67 million in cash, corporate preventative measures, and new lending initiatives for residents of cities devastated by Wells Fargo's alleged unlawful foreclosure practices.
Aelish and a team of Robbins Geller attorneys recently obtained a $62.5 million settlement in Villella v. Chemical and Mining Company of Chile Inc., a securities class action against a Chilean mining company. The case alleged that Sociedad Química y Minera de Chile S.A. ("SQM") violated the Securities Exchange Act of 1934 by issuing materially false and misleading statements regarding the Company's failure to disclose that money from SQM was channeled illegally to electoral campaigns for Chilean politicians and political parties as far back as 2009. SQM had also filed millions of dollars' worth of fictitious tax receipts with Chilean authorities in order to conceal bribery payments from at least 2009 through fiscal 2014. Due to the company being based out of Chile and subject to Chilean law and rules, Aelish and the Robbins Geller litigation team put together a multilingual litigation team with Chilean expertise.
Aelish was also part of the litigation and trial team in White v. Cellco Partnership d/b/a Verizon Wireless, which resulted in a $25 million settlement and Verizon's agreement to an injunction restricting its ability to impose early termination fees in future subscriber agreements. She was also part of the team that prosecuted dozens of stock option backdating actions, securing tens of millions of dollars in cash recoveries as well as the implementation of comprehensive corporate governance enhancements for numerous companies victimized by their directors' and officers' fraudulent stock option backdating practices. Additionally, Aelish prosecuted an action against Prudential Insurance for its alleged failure to pay life insurance benefits to beneficiaries of policyholders it knew or had reason to know had died, resulting in a settlement in excess of $30 million.
Aelish has been an Elite Women of the Plaintiffs Bar winner at The National Law Journal's Elite Trial Lawyers awards. She has also named a Recommended Lawyer by The Legal 500, California Lawyer Attorney of the Year (CLAY) by the Daily Journal, a Plaintiffs' Lawyers Trailblazer, Litigation Trailblazer, and Class Action/Mass Tort Litigation Trailblazer by The National Law Journal, a Leading Plaintiff Consumer Lawyer, Leading Lawyer in America, and Leading Plaintiff Financial Lawyer by Lawdragon, a California Trailblazer by The Recorder, and a Super Lawyer by Super Lawyers Magazine. She has also been named on the Best Lawyer in America list, Best Lawyers in America: Ones to Watch list, and the Northern California Ones to Watch list by Best Lawyers®. She joined the Firm in 2004 after having previously practiced with Lawless & Lawless in the area of employment discrimination where she litigated and tried numerous cases to successful outcomes.
Aelish serves as a Board member for Legal Aid at Work, a highly respected non-profit organization committed to enforcing and strengthening the civil and employment rights of low-wage workers in California and across the country. She earned her Bachelor of Arts degree from Brown University and her Juris Doctor degree from American University, where she was senior editor of the Administrative Law Review.
Awards
Best Lawyer in America, Best Lawyers®, 2024
Class Action/Mass Tort Litigation Trailblazer, The National Law Journal, 2023
Recommended Lawyer, The Legal 500, 2023

Leading Plaintiff Financial Lawyer,

Lawdragon

, 2019-2023

Elite Women of the Plaintiffs Bar, Elite Trial Lawyers, The National Law Journal, 2023

Plaintiffs' Lawyers

Trailblazer,

The National Law Journal, 2021, 2023
California Lawyer Attorney of the Year (CLAY), Daily Journal, 2023

Leading Plaintiff Consumer Lawyer,

Lawdragon

, 2022-2023

Leading Lawyer in America, Lawdragon, 2020-2023

Best Lawyer in America: One to Watch,

Best Lawyers®

, 2021-2023

Best Lawyer in Northern California: One to Watch,

Best Lawyers®

, 2021

Featured in "Lawyer Limelight" series, Lawdragon, 2020
Litigation Trailblazer, The National Law Journal, 2019
California Trailblazer, The Recorder, 2019
Super Lawyer, Super Lawyers Magazine, 2012-2013
Education
Washington College of Law at American University, J.D., 1998, cum laude
Senior editor of the Administrative Law Review
Brown University, B.A., 1992, International Relations
Admissions
California
United States Supreme Court
United States Court of Appeals for the Ninth Circuit
United States District Courts for the Northern and Central Districts of California
Professional Affiliations
Board Member, Legal Aid at Work