PDF
Robbins Geller Achieves Appellate Victory in Securities Fraud Case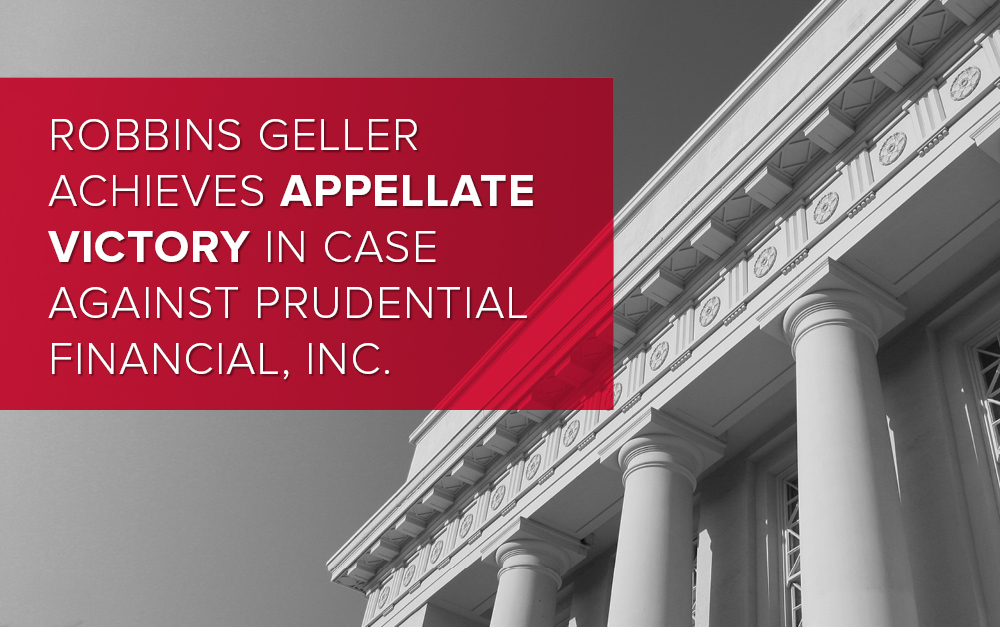 June 27, 2023
The U.S. Court of Appeals for the Third Circuit partially reversed the dismissal of a securities fraud case against Prudential Financial, Inc. and certain of its officers.
The lead plaintiff, City of Warren Police and Fire Retirement System, alleges that, during 2019, Prudential and its executives made false and misleading statements in violation of the federal securities laws. These statements concerned Prudential's insurance reserves for its Individual Life business, including a June 5, 2019 assurance that Prudential's recent mortality experience was within the range of "normal". In truth, as disclosed less than two months later on July 31, 2019, Prudential had experienced extremely high mortality in its Individual Life business and was forced to increase insurance reserves by $208 million, resulting in Prudential missing its earnings expectations. Prudential also disclosed that this negative mortality experience would reduce its earnings by $25 million per quarter for the foreseeable future – wiping out one-third of the expected earnings for the Individual Life business, causing the company's stock price to fall.
On December 29, 2020, the district court dismissed the case finding that lead plaintiff's reliance on facts derived from former Prudential employees should be discounted, but the Third Circuit reversed the district court's order in part, finding that plaintiff adequately alleged falsity and crediting allegations from former employees. As discussed in Reuters, the Third Circuit also credited allegations, previously rejected by the district court, that as early as May 2019, Prudential executives were internally discussing that the company "would need to take a significant charge to Individual Life adjusted operating income." Accordingly, the Third Circuit remanded the case to the district court for further proceedings with respect to the issues of scienter and loss causation.
Daniel J. Pfefferbaum, a partner in Robbins Geller Rudman & Dowd LLP's San Francisco office, argued the case before the appellate court. Shawn A. Williams, Joseph D. Daley, and Hadiya K. Deshmukh also litigated this matter before the Third Circuit.
The full Reuters article is available here - https://www.reuters.com/legal/us-appeals-court-revives-prudential-shareholder-case-2023-06-13/
About Robbins Geller

Robbins Geller Rudman & Dowd LLP is one of the world's leading complex litigation firms, representing plaintiffs in securities fraud, shareholder derivative, antitrust, corporate takeover, and consumer fraud and privacy cases. With 200 lawyers in 9 offices, Robbins Geller is one of the world's largest plaintiffs' firms, and the Firm's attorneys have obtained many of the largest securities, antitrust, and consumer class action recoveries in history.

The Firm is ranked #1 on the most recent ISS Securities Class Action Services Top 50 Report for recovering more than $1.75 billion for investors in 2022 – the third year in a row Robbins Geller tops the list. And in those three years alone, Robbins Geller recovered nearly $5.3 billion for investors, more than double the amount recovered by any other plaintiffs' firm. The Firm secured the largest-ever securities fraud class action settlement — $7.2 billion — in In re Enron Corp. Securities Litigation.

For media inquiries, please contact media@rgrdlaw.com or call (619) 338-3821.

City of Warren Police & Fire Retirement System v. Prudential Financial, Inc., 2023 WL 3961128 (3d Cir. June 13, 2023).
Read More Firm News
September 26, 2023

September 21, 2023

September 14, 2023

September 13, 2023

August 23, 2023