PDF
Partner Aelish Marie Baig Named Class Action/Mass Tort Trailblazer by The National Law Journal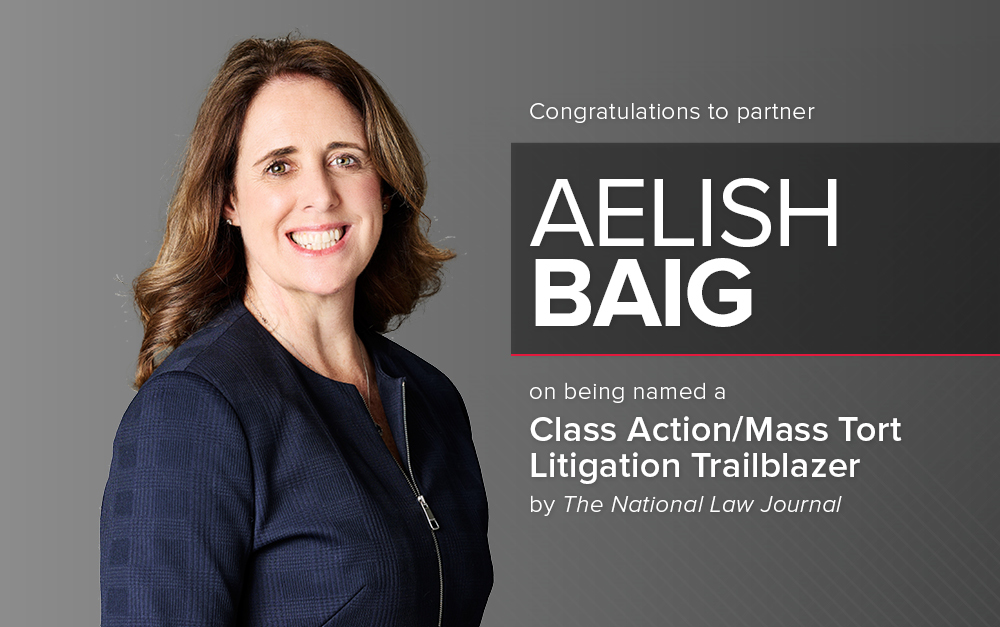 September 5, 2023
Partner Aelish Marie Baig was recognized as a Class Action/Mass Tort Litigation Trailblazer by The National Law Journal. The annual list honors attorneys who are "agents of change" in their practice areas. Baig was honored for her work on the nationwide multi-district litigation to hold manufacturers, distributors, and pharmacies, among others, accountable for their roles in facilitating the opioid crisis.
Since 2016, Baig has been a key member of a Robbins Geller litigation team that has been working on multiple aspects of the multi-district litigation on behalf of cities and counties across the country. In 2022, Baig co-led the trial team in one of the multi-district litigation's bellwether trials representing the City and County of San Francisco. The trial resulted in a verdict holding Walgreens liable for its role in the opioid crisis in San Francisco and combined settlements of nearly $70 million with other defendants. In May 2023, San Francisco announced a nearly $230 million settlement with Walgreens.
The nationwide multi-district litigation has achieved settlements of more than $50 billion from multiple categories of defendants. Some defendant companies have also instituted reforms as part of the nationwide settlements, including agreeing to no longer market Schedule II opioids. State and local governments must spend settlement funds on abatement efforts.
About Robbins Geller

Robbins Geller Rudman & Dowd LLP is one of the world's leading complex litigation firms, representing plaintiffs in securities fraud, shareholder derivative, antitrust, corporate takeover, and consumer fraud and privacy cases. With 200 lawyers in 9 offices, Robbins Geller is one of the world's largest plaintiffs' firms, and the Firm's attorneys have obtained many of the largest securities, antitrust, and consumer class action recoveries in history.

The Firm is ranked #1 on the most recent ISS Securities Class Action Services Top 50 Report for recovering more than $1.75 billion for investors in 2022 — the third year in a row Robbins Geller tops the list. And in those three years alone, Robbins Geller recovered nearly $5.3 billion for investors, more than double the amount recovered by any other plaintiffs' firm. The Firm secured the largest-ever securities fraud class action settlement — $7.2 billion — in In re Enron Corp. Securities Litigation.

For media inquiries, please contact media@rgrdlaw.com or call (619) 338-3821.


Read More Awards
September 14, 2023

August 25, 2023

August 17, 2023

August 2, 2023

July 13, 2023