PDF
Lawdragon Features Partner Aelish Baig in Lawyer Limelight Series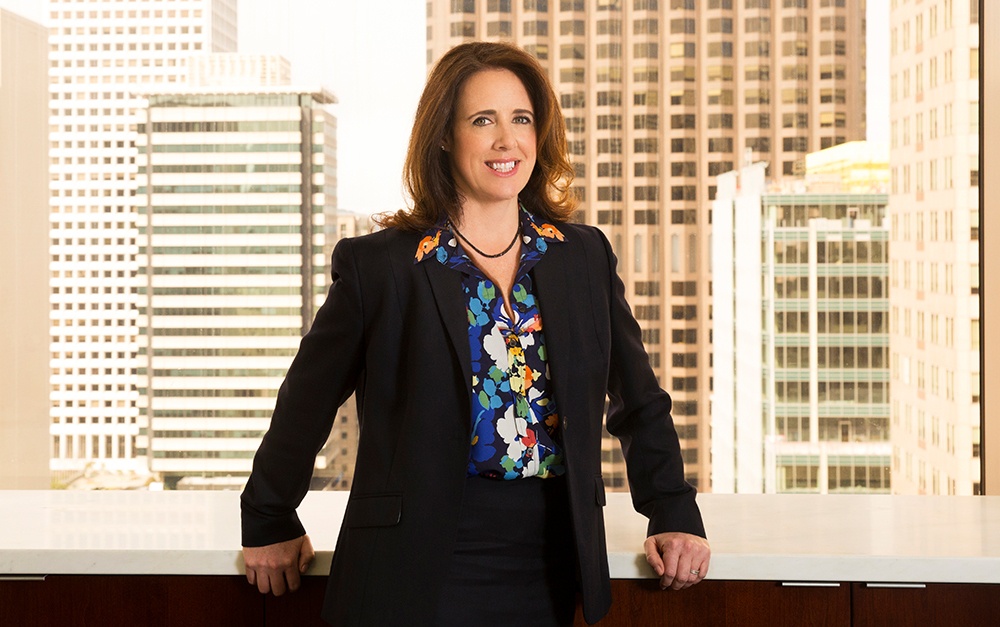 June 15, 2020
On June 15, 2020, Lawdragon published a profile on Robbins Geller partner Aelish Baig as part of its "Lawyer Limelight" series, an in-depth Q&A covering everything from Aelish's family of lawyers, to her first job at her aunts' law firm, to her important work in the opioid litigation to end the epidemic that has been plaguing the country for years, leading to hundreds of thousands of deaths across America, to what sets Robbins Geller apart from other firms. "She is a critical part of the Robbins Geller team leading the mammoth case against opioid manufacturers on behalf of the firm's city, county and state government clients around the country, In re National Prescription Opiate Litigation," noted the publication.
When asked what drew her to be a lawyer, Aelish recalled that although her parents were artists and teachers, her grandfather, "legendary lawyer" and former New York Supreme Court judge William Lawless, influenced her and her family greatly. He served as dean of the University of Notre Dame Law School and helped Nixon-era Attorney General John Mitchell's wife prepare for her deposition during the Watergate inquiry of the 1970s. Of his 12 children, four became lawyers and some married lawyers, while some of his grandchildren, including Aelish, became lawyers. "Conversations at the big family dinners were always about what was happening in the world: law, politics, elections, whatever was pressing in the news at the time," recalled Aelish. "There was vigorous debate at those dinners – everyone held an opinion, and voiced it (often at the same time) – and that has been passed down through the generations. He used to hold court at the dinner table and present views and ask people to offer opinions and make arguments. I first learned about law at those family dinners, through him and later through his daughters who became lawyers."
After Aelish earned her Bachelor of Arts degree from Brown University and her Juris Doctor degree from American University, she went on to work for her aunts at an employment discrimination firm, Lawless & Lawless, where she litigated and tried numerous cases to successful outcomes. "My first trial was a race discrimination case against a major multinational company," Aelish said. "It was a true David versus Goliath case where I went in as this wide-eyed, true-believing young lawyer and came out successful and seasoned but also bruised and having experienced unique challenges all around, not only from the defense, which was about as scorched earth as I have seen to this day, but also from our own clients who were struggling with the trauma of re-living the discrimination and abuse they had suffered." She described her time at the small plaintiffs' firm as a "transformative experience" because there "isn't a large team to do the work, so you're it. If there's a summary judgment that comes in, if there's a motion to dismiss that needs to be opposed, you're it. If there's an important hearing and you've written the brief, you know it the best, you argue it. And you take it to trial too."
After learning about all aspects of litigation for several years working for her aunts, Aelish was hired at Robbins Geller for her trial and litigation experience. She was drawn to the opportunity to work on class cases and their broad range of impact. "Whatever is happening in the country, the most cutting edge issues facing the nation, that is what we are working on, and that is endlessly fascinating," commented Aelish. "Our work crosses so many industries, tech, banks, insurance, pharma – the full gamut. And with each new case we go from knowing very little to almost everything about that company and its business. In 2006 and 2007 we were doing the backdating cases, and then the financial crisis hit and we transitioned to mortgage foreclosure cases and then insurance fraud. We draw upon our past litigation experience, of course, but the work is always changing, evolving, just like the law. It keeps you engaged in issues of great import, and I love that about it."
As a partner of the Firm's San Francisco office, Aelish specializes in federal securities and consumer class actions. She has litigated a number of cases through jury trial, resulting in multi-million dollar awards and settlements for her clients, and has prosecuted securities fraud, consumer, and derivative actions obtaining millions of dollars in recoveries against corporations such as Wells Fargo, Verizon, Celera, Pall, and Prudential. Lawdragon highlighted Aelish's first case at Robbins Geller, "where she won a $67M settlement from Wells Fargo over claims of robosigning foreclosure papers and was part of the team that prosecuted stock-option backdating claims."
When asked about the cases in Aelish's career that were the most meaningful due to the learning experience or the result, Aelish noted the ongoing sprawling opioid litigation. "The harm caused by the alleged bad acts is the most egregious I've seen in more than two decades of practice," said Aelish. "With every stone unturned, it became increasingly clear that a complaint had to be written. The fraud was so pervasive and caused such destruction, the breadth of the harm, unimaginable. So we wrote the first complaint, and then we wrote about 40 more for government clients across the country, all suffering as a result of the alleged false marketing and failure to report suspicious orders . . . Virtually every person I encounter, even now, if I tell them what I'm working on, they'll tell me about a person they've lost or about someone they know who's struggling with addiction. I've heard countless stories. There isn't anyone who's not touched by this, if not by one, then two or three degrees of separation. To me, that alone makes it a worthwhile endeavor." Lawdragon then praised Robbins Geller for making "an enormous difference in our country and in our legal system" because the Firm has the skills, endurance, and "wherewithal to tackle" this important case. Robbins Geller currently serves on the Plaintiffs' Executive Committee to spearhead more than 2,900 federal lawsuits brought on behalf of governmental entities and other plaintiffs.
Robbins Geller consistently receives numerous accolades from various courts, professional organizations, and the media, and Aelish attributes the Firm's successful work to its attorneys and resources. "You need immense resources to fund this sort of litigation against some of the wealthiest corporations in the country, and you also need a deep bench of lawyers and staff with which to prosecute it. Fortunately, Robbins Geller has both. We have invested millions into [the opioid] litigation already and will see it through to the end – no matter how long that takes," said Aelish. "Even with Covid-19. One of our opioid clients, San Francisco, was recently remanded for trial here in SF, and we are moving forward full steam, despite the fact that the city is grappling with coronavirus issues, and despite the shelter-in-place orders. We are all working from home and preparing responses to a full round of dispositive motions which will be filed next week. This litigation doesn't stop – even in a global pandemic."
Lawdragon also commended Aelish for her "passion for making a difference" and for her work with Legal Aid at Work, a highly respected non-profit organization committed to enforcing and strengthening the civil and employment rights of low-wage workers in California and across the country. The publication emphasized that Aelish must be very busy with all the layoffs and furloughs that occurred when the economy was more or less shut down to address the coronavirus. "I feel honored to be on the board of Legal Aid at Work. I have enormous respect for the work it does. Their mission is to help low-wage workers, a group among those hardest hit by Covid-19, so there's perhaps more need now than ever before with the devastation to our economy in recent weeks. The vast majority of the people we serve live paycheck-to-paycheck and are without any support network," she remarked.
Aelish has many mentors and people who inspire her in her life. Notably, her mother, husband, children, and Ruth Bader Ginsburg. "In terms of making a difference, first and foremost was my mother; I derive much of my strength from her. And she's not a lawyer, she was a teacher. She is an artist. But even now, she knows the ins and outs of the opioid litigation. She reads all the articles and sends me those she thinks I may have missed. She provides endless encouragement and, even during quarantine times, she's reminding me and my brother, 'Hey, if quarantine is getting you down, go do something for somebody else.'" Additionally, Aelish reflected that she draws "enormous support as well from [her] loving husband and children who are 11 and 16."
"My husband is as solid as they come. We've been together for more than 25 years. Litigating at this level with children, and both parents working, is uniquely challenging, but he is a rock, and holds everything together when litigation takes over. And then, of course, there's Ruth Bader Ginsburg – her unrivaled intellect, and wit, and steadfastness. A true inspiration."
Her inspiration and mentors definitely shine in her work, as Aelish has been named a Litigation Trailblazer by The National Law Journal, a Leading Lawyer in America and Leading Plaintiff Financial Lawyer by Lawdragon, a California Trailblazer by The Recorder, and a Super Lawyer by Super Lawyers Magazine.
Read More Awards
September 14, 2023

September 5, 2023

August 25, 2023

August 17, 2023

August 2, 2023