PDF
Robbins Geller Selected by The National Law Journal as Finalist in 2023 Elite Trial Lawyers Awards and Partner Aelish Marie Baig Wins in Elite Women of the Plaintiffs Bar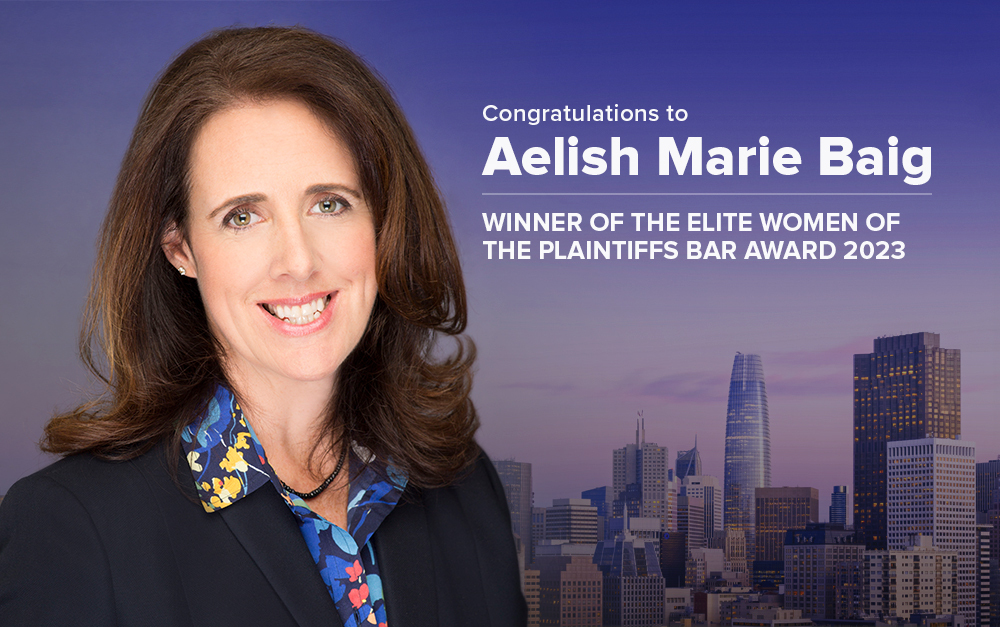 May 16, 2023
On Thursday, May 11, 2023, ALM's The National Law Journal announced that Robbins Geller Rudman & Dowd LLP is a finalist in the class action, securities litigation/shareholder rights, and consumer protection categories of the 2023 Elite Trial Lawyers Awards. Partner Aelish Marie Baig was selected as a winner of the Elite Women of the Plaintiffs Bar award. Winners in all 25 categories will be announced at the Elite Trial Lawyers award ceremony in New York City on July 13, 2023.
This is the eighth year the Firm's work has been recognized in the Elite Trial Lawyers awards. It marks the third consecutive year the Firm was recognized for its historic work on class action cases and the fourth consecutive year it was recognized for precedent-setting work in securities litigation.
Baig, based in the Firm's San Francisco office, was specifically recognized for her relentless work in litigation against the pharma companies behind the nation's opioid epidemic, including as co-lead counsel in a federal bellwether bench trial on behalf of the City and County of San Francisco. In that trial, she and her co-counsel achieved a verdict against Walgreens for its role in the opioids epidemic that ravaged San Francisco for decades. The trial team also secured settlements of nearly $70 million for San Francisco and, in the broader multi-district litigation, more than $50 billion nationwide.
Robbins Geller also secured the largest class action recovery of 2022 – $809.5 million in In re Twitter, Inc. Securities Litigation – the 19th largest U.S. securities fraud class action settlement of all time. It is also the only firm with multiple $1 billion-plus recoveries as sole lead counsel: In re Enron Corp. Securities Litigation ($7.2 billion); Jaffe v. Household International, Inc. ($1.575 billion); In re Valeant Pharmaceuticals International, Inc. Securities Litigation ($1.21 billion); and In re American Realty Capital Properties, Inc. Litigation ($1.025 billion).
See the full list of Elite Trial Lawyers finalists and winners at https://www.law.com/nationallawjournal/2023/05/11/the-national-law-journal-announces-2023-elite-trial-lawyers-awards-finalists/
About Robbins Geller

Robbins Geller Rudman & Dowd LLP is one of the world's leading complex litigation firms, representing plaintiffs in securities fraud, shareholder derivative, antitrust, corporate takeover, and consumer fraud and privacy cases. With 200 lawyers in 9 offices, Robbins Geller is one of the world's largest plaintiffs' firms, and the Firm's attorneys have obtained many of the largest securities, antitrust, and consumer class action recoveries in history.
The Firm is ranked #1 on the most recent ISS Securities Class Action Services Top 50 Report for recovering over $1.75 billion for investors in 2022. This is the third consecutive year in which the Firm topped these rankings. The Firm's attorneys secured the largest-ever securities fraud class action settlement – $7.2 billion – in In re Enron Corp. Securities Litigation.

For media inquiries, please contact media@rgrdlaw.com or call (619) 338-3821.
Read More Firm News
December 7, 2023

November 21, 2023

November 16, 2023

November 3, 2023

October 24, 2023