PDF
Partners Randall Baron and Spencer Burkholz Recognized as 2022 Plaintiffs' Lawyers Trailblazers by The National Law Journal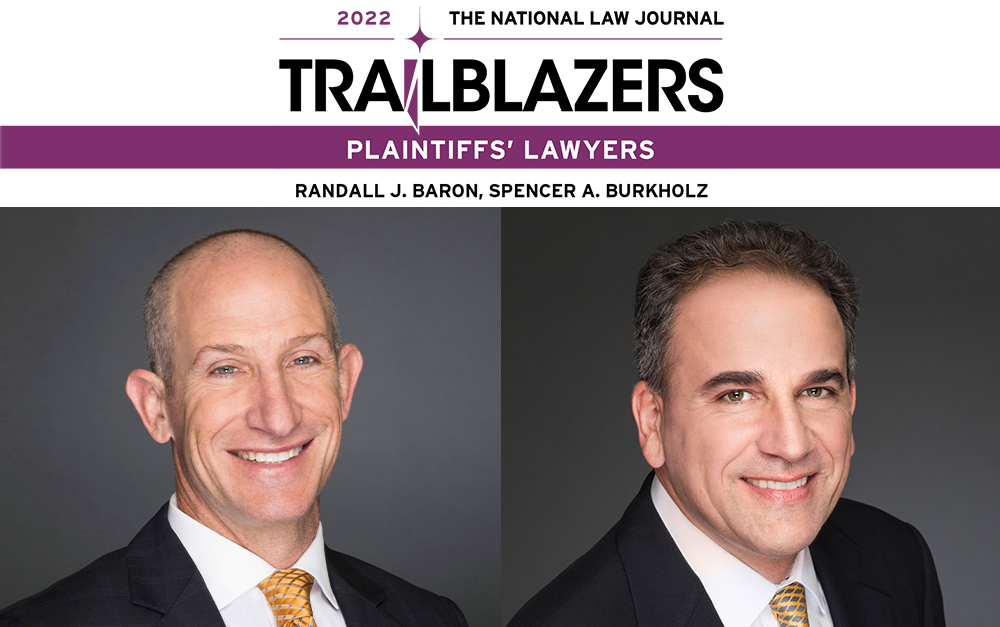 May 24, 2022
The National Law Journal named Robbins Geller Rudman & Dowd LLP partners Randall J. Baron and Spencer A. Burkholz to its annual Plaintiffs' Lawyers Trailblazers list. Baron and Burkholz were selected from "a very competitive list of nominations" for recognition as "agents of change."
Baron has been prosecuting securities litigation, corporate takeover litigation, and breach of fiduciary duty actions for over 20 years. He has been involved in numerous record-breaking cases, including the largest merger & acquisition class action recovery in history in In re Kinder Morgan, Inc. Shareholders Litigation and the largest trial verdict ever in a class action challenging a merger transaction in In re Dole Food Co., Inc. Stockholder Litigation.
Burkholz serves as co-lead counsel prosecuting Goldman Sachs for defrauding investors in the run-up to the Great Financial Crisis. Burkholz has been litigating In re Goldman Sachs Group, Inc. Securities Litigation for 12 years through "three decisions from the Second Circuit, one from the [United States] Supreme Court, and untold pages of cumulative briefing." Burkholz and the team are preparing to take the case, called "the decade's most momentous securities class action case" by Reuters, to trial.
This is the fifth consecutive year that Robbins Geller attorneys have been named to the Plaintiffs' Lawyers Trailblazers list and the second time Burkholz has been selected for the list. Previous Robbins Geller Trailblazers include: Aelish Marie Baig and Jessica T. Shinnefield in 2021; Samuel H. Rudman, Willow E. Radcliffe, and Robert R. Henssler, Jr. in 2020; Shawn A. Williams, and Tor Gronborg in 2019; and Paul J. Geller, Jason A. Forge, and Rachel L. Jensen in 2018.
The full list is available here: https://images.law.com/media/nationallawjournal/supplements/NLJTB_Plaintiffs_2022/index.html#p=1.
Robbins Geller Rudman & Dowd LLP is one of the world's leading complex litigation firms, representing plaintiffs in securities fraud, shareholder derivative, antitrust, corporate takeover, and consumer fraud and privacy cases. With 200 lawyers in 9 offices, Robbins Geller is one of the world's largest plaintiffs' firms in the world, and the Firm's attorneys have obtained many of the largest securities, antitrust, and consumer class action recoveries in history. The Firm is ranked #1 on the 2021 ISS Securities Class Action Services Top 50 Report for recovering nearly $2 billion for investors last year alone – more than triple the amount recovered by any other plaintiffs' firm. The Firm secured the largest-ever securities fraud class action settlement — $7.2 billion — in In re Enron Corp. Securities Litigation.
For media inquiries, please contact media@rgrdlaw.com.
Read More Firm News
December 7, 2023

November 21, 2023

November 16, 2023

November 3, 2023

October 24, 2023