PDF
Partners Daniel Drosman and Tor Gronborg Recognized as 2022 West Trailblazers by The American Lawyer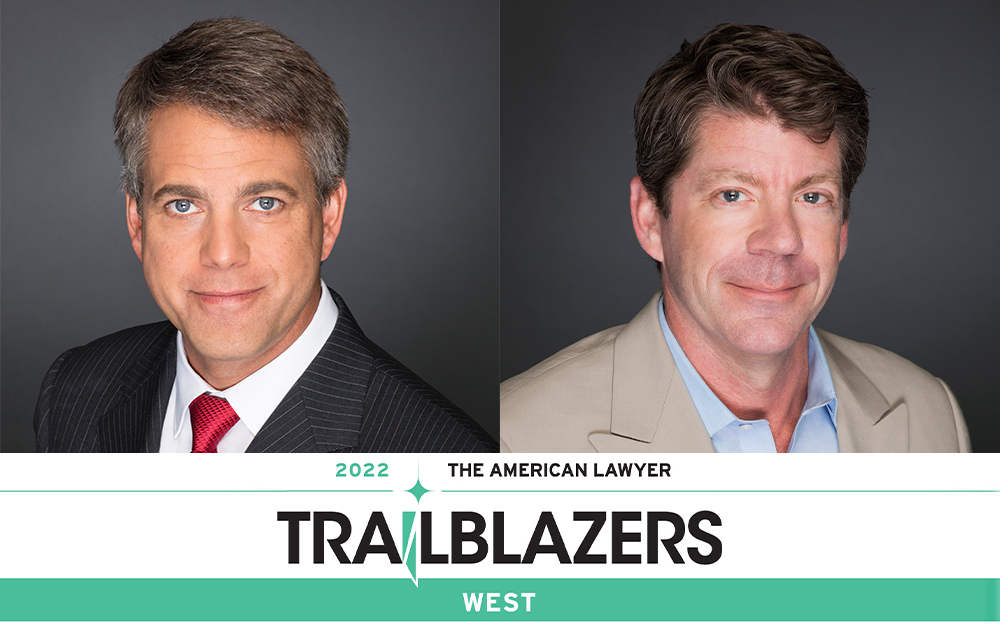 August 16, 2022
Robbins Geller Rudman & Dowd LLP partners Daniel S. Drosman and Tor Gronborg were selected by The American Lawyer for its second annual list of West Trailblazers. The Trailblazers list recognizes attorneys who are "agents of change" in their practice areas.
Drosman and Gronborg led the trial team in In re Twitter Inc. Securities Litigation. In September 2021, Robbins Geller and co-counsel negotiated a record-breaking $809.5 million settlement in the case. If the settlement receives final approval from the court, it is expected to be one of the top 20 class action settlements of all time in the United States, according to ISS Securities Class Action Services.
Drosman and Gronborg were named Litigators of the Week by The AmLaw Litigation Daily for their work on Twitter. Drosman has been named a 2022 Titan of the Plaintiffs Bar by Law360 and 2022 Top Plaintiff Lawyer by the Daily Journal. Gronborg has been named a 2022 Leading Lawyer in America and 2022 Leading Plaintiff Financial Lawyer by Lawdragon.
The full list is available here: https://images.law.com/media/theamericanlawyer/supplements/TALTB_West_2022/index.html#p=6.
About Robbins Geller
Robbins Geller Rudman & Dowd LLP is one of the world's leading complex litigation firms, representing plaintiffs in securities fraud, shareholder derivative, antitrust, corporate takeover, and consumer fraud and privacy cases. With 200 lawyers in 9 offices, Robbins Geller is one of the world's largest plaintiffs' firms, and the Firm's attorneys have obtained many of the largest securities, antitrust, and consumer class action recoveries in history.
The Firm is ranked #1 on the 2021 ISS Securities Class Action Services Top 50 Report for recovering nearly $2 billion for investors last year alone – more than triple the amount recovered by any other plaintiffs' firm. The Firm secured the largest-ever securities fraud class action settlement — $7.2 billion — in In re Enron Corp. Securities Litigation.
For media inquiries, please contact media@rgrdlaw.com or call (619) 338-3821.
Read More Firm News
December 7, 2023

November 21, 2023

November 16, 2023

November 3, 2023

October 24, 2023