PDF
Institutional Shareholder Services Report Highlights Robbins Geller's Top Investor Recoveries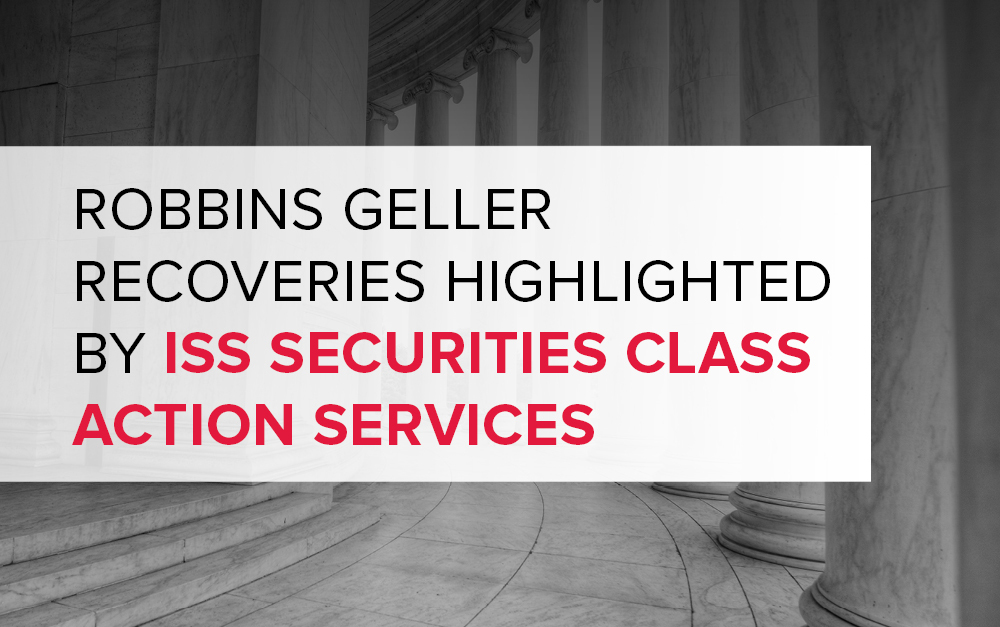 August 23, 2023
Earlier this month, the Institutional Shareholder Services' Securities Class Actions Services (ISS SCAS) released "This Month in Securities Class Actions," its inaugural monthly recap of "important, newsworthy, and developing securities-related settlements, disbursements, and other stories."
The July 2023 recap highlights multiple cases prosecuted by our Firm on behalf of investors. In one case, Valeant, the Firm recovered $1.21 billion for investors – the ninth-largest securities fraud class action recovery of all-time (disbursement of funds to class members began in July 2023). In two other cases, McKesson and Micro Focus, the Firm secured investor recoveries of more than $100 million each, totaling $248.5 million.
Our recent recoveries highlighted by ISS SCAS include:
McKesson Corporation: $141 million recovered for investors. On Friday, July 14, the Honorable Charles R. Breyer of the U.S. District Court for the Northern District of California approved the $141 million settlement in this case. The victory brought to a close nearly five years of litigation involving allegations of generic drug-price fixing by McKesson, the nation's largest wholesale distributor of prescription drugs. "Our team worked incredibly hard for years to achieve this excellent recovery for investors. We want to thank the lead plaintiff, Pension Trust Fund for Operating Engineers, for leading this case on behalf of all investors and achieving this exceptional result," partner Spencer A. Burkholz told Reuters.
Micro Focus International plc: $107.5 million recovered for investors. On July, 9, 2023, the Superior Court of California, County of San Mateo approved the $107.5 million recovery for investors. The ruling resolved both a state case, prosecuted by Robbins Geller and co-counsel, and a federal case on appeal. Our Firm and co-counsel successfully opposed efforts by federal plaintiffs to effectuate an earlier proposed $15 million settlement. "The procedural history in this case demonstrates that we don't give up. Our clients knew investors deserved significantly more than the initial proposed settlement, and our strategy and persistence in moving forward paid off for the entire class," said partner James I. Jaconette.
Valeant Pharmaceuticals International, Inc.: $1.21 billion recovered for investors. This is the largest securities class action settlement reached against a pharmaceutical manufacturer and the ninth-largest such settlement in history. The case, which received final settlement approval January 31, 2021, alleged that Valeant (now Bausch Health Companies, Inc.) concealed unsustainable and deceptive price gouging practices and controlled a distribution network that engaged in questionable practices to boost sales of their products. "The company's financial condition presented a significant challenge and it is remarkable that we were able to achieve a $1.21 billion recovery when the company only had a reported cash balance of $825 million. There is no question in my mind that our string of victories in the litigation contributed to the defendants' decision to settle prior to exhausting the many remaining legal challenges they had available through trial and appeal," said lead counsel James E. Barz.
Cardinal Health, Inc.: $109 million. On April 3, 2023, Robbins Geller announced a $109 million settlement in this securities fraud class action against Cardinal Health, Inc. The settlement is pending final court approval. The lawsuit arose out of Cardinal Health's acquisition and integration of Cordis Corporation, a manufacturer and global supplier of medical devices acquired from Johnson & Johnson. Cardinal Health allegedly failed to disclose that Cordis faced inventory and supply chain issues that were harming Cordis's financial performance.
Read the entire ISS SCAS recap at https://www.linkedin.com/posts/iss-institutional-shareholder-services_this-month-in-securities-class-actions-a-activity-7091039665591382016-A8Mz
About Robbins Geller
Robbins Geller Rudman & Dowd LLP is one of the world's leading complex litigation firms, representing plaintiffs in securities fraud, shareholder derivative, antitrust, corporate takeover, and consumer fraud and privacy cases. With 200 lawyers in 9 offices, Robbins Geller is one of the world's largest plaintiffs' firms, and the Firm's attorneys have obtained many of the largest securities, antitrust, and consumer class action recoveries in history.
The Firm is ranked #1 on the most recent ISS Securities Class Action Services Top 50 Report for recovering more than $1.75 billion for investors in 2022 – the third year in a row Robbins Geller tops the list. And in those three years alone, Robbins Geller recovered nearly $5.3 billion for investors, more than double the amount recovered by any other plaintiffs' firm. The Firm secured the largest-ever securities fraud class action settlement — $7.2 billion — in In re Enron Corp. Securities Litigation.
For media inquiries, please contact media@rgrdlaw.com or call (619) 338-3821.
Read More Firm News