PDF
Robbins Geller Achieves $84 Million Settlement for Bioverativ Investors While Continuing to Press Insider Trading Claims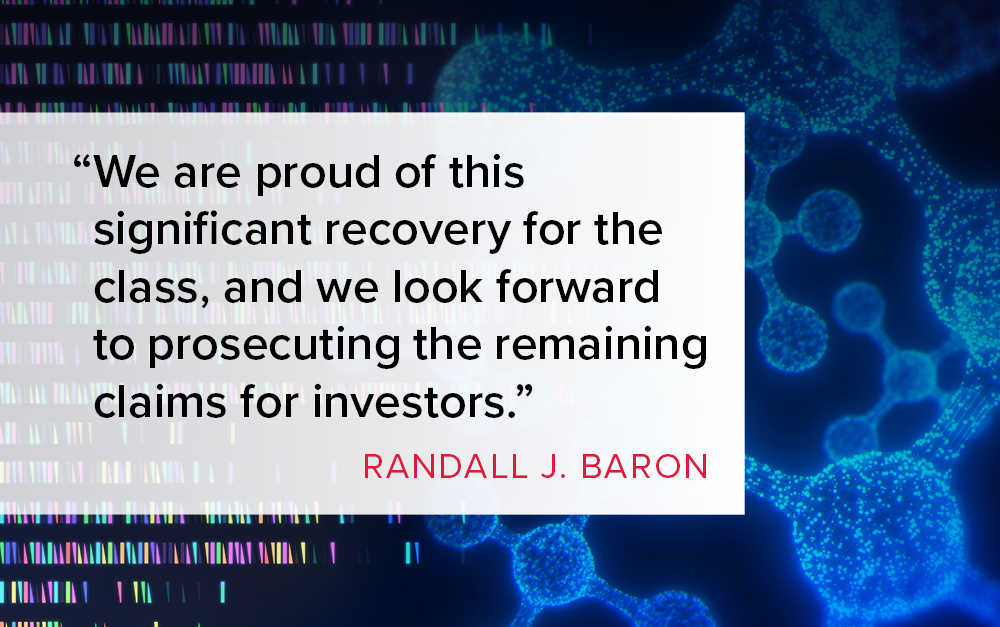 September 13, 2023
Robbins Geller Rudman & Dowd LLP secured an $84 million partial settlement for former Bioverativ, Inc. investors in a shareholder class action.
The case involves allegations that former officers and directors of Bioverativ breached their fiduciary duties in the sale of Bioverativ to Sanofi S.A. in 2018. The settling defendants agreed to have $84 million paid to former Bioverativ shareholders in exchange for dismissal of claims that those defendants failed to maximize the value of Bioverativ in the sale.
The court also previously upheld, at the pleading stage, claims that Bioverativ director Alexander Denner and his hedge fund, Sarissa Capital, engaged in insider trading in violation of Delaware law by trading on material non-public information about Sanofi's desire to buy the company. Robbins Geller, together with co-counsel, is continuing to litigate those claims, seeking disgorgement of Denner and Sarissa Capital's substantial ill-gotten profits plus interest. Trial on those claims is scheduled for April 2024.
The court approved the partial settlement today, September 13, 2023.
"We are pleased to deliver this substantial result for Bioverativ shareholders, and we look forward to holding Dr. Denner and Sarissa accountable at trial," said lead plaintiff Dr. Stewart N. Goldstein, M.D., an investor and physician in California.
Robbins Geller partner Randall J. Baron, who serves as lead counsel in this matter, noted the importance of our client, Dr. Goldstein, and his commitment to securing a strong result for investors.
"We are proud of this significant recovery for the class, and we look forward to prosecuting the remaining claims for investors."
Lead plaintiff Stewart N. Goldstein, M.D. is represented by Robbins Geller attorneys Randall J. Baron, A. Rick Atwood, Jr., Christopher H. Lyons, Téo A. Doremus, and Ora L. Lupear, and co-counsel.
About Robbins Geller

Robbins Geller Rudman & Dowd LLP is one of the world's leading complex litigation firms, representing plaintiffs in securities fraud, shareholder derivative, antitrust, corporate takeover, and consumer fraud and privacy cases. With 200 lawyers in 9 offices, Robbins Geller is one of the world's largest plaintiffs' firms, and the Firm's attorneys have obtained many of the largest securities, antitrust, and consumer class action recoveries in history.
The Firm is ranked #1 on the most recent ISS Securities Class Action Services Top 50 Report for recovering over $1.75 billion for investors in 2022. This is the third consecutive year in which the Firm topped these rankings. The Firm's attorneys secured the largest-ever securities fraud class action settlement – $7.2 billion – in In re Enron Corp. Securities Litigation.

For media inquiries, please contact media@rgrdlaw.com or call (619) 338-3821.
Goldstein v. Denner, C.A. No. 2020-1061-JTL (Del. Ch.).
Read More Firm News
September 26, 2023

September 21, 2023

September 14, 2023

August 23, 2023

August 10, 2023