PDF
Robbins Geller Mourns the Loss of Sandra Stein
February 28, 2020
A beloved mother, grandmother, friend, and colleague, Sandy Stein was renowned for her tireless effort over the last two decades to help institutional investors across the country recover losses due to corporate fraud.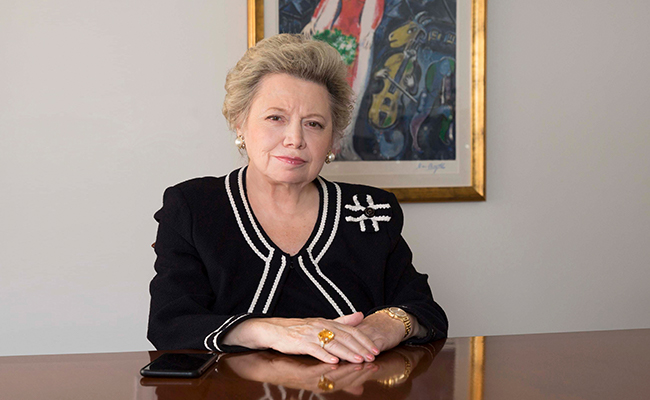 Stein passed away on February 25, 2020 following a long and valiant battle with cancer. "Sandy will forever be remembered for her fighting spirit and indefatigable work ethic on behalf of working people across the country," said Robbins Geller partner Darren J. Robbins.
Edward M. Smith, former Vice President for the Laborers' International Union of North America (LIUNA) and current CEO of Ullico, Inc., recalled, "I've admired and enjoyed knowing Sandy for many years. She truly was one-of-a-kind — hardworking, dedicated, bright, and had a great sense of humor. You always knew when Sandy was in a room."
Stein concentrated her practice in securities class action litigation, legislative law, and antitrust litigation. She served as Counsel to United States Senator Arlen Specter of Pennsylvania. During her service in the United States Senate, she was a member of Senator Specter's legal staff and a member of the United States Senate Judiciary Committee staff.
Stein was a Co-Founder of the Institute for Law and Economic Policy (ILEP), a think tank which develops policy positions on selected issues involving the administration of justice within the American legal system. Speakers at ILEP's yearly symposiums have included the most prominent legal scholars, judges, government officials, and noted academics in the United States. Each year, ILEP is invited to publish the papers presented at its symposia in prominent law reviews such as Columbia Law Review, Duke Law Journal, Hastings Law Journal, Vanderbilt Law Review, Arizona Law Review, and Wisconsin Law Review. ILEP studies have been used to refine and reform complex litigation and have been cited in numerous precedent-setting decisions.
"My mother had a tremendous sense of justice and fairness. She battled all her life to make sure it was applied evenly across the board. Having been trained by one of the best, I can continue fighting the good fight alongside my extremely talented partners," said daughter and Robbins Geller attorney Laura S. Stein.
Stein worked closely with her daughter, Laura, and together, they served as the Firm's liaisons to institutional investors around the world. Pension funds advised by Stein recovered billions of dollars for defrauded investors and achieved groundbreaking corporate governance reforms.
Stein also served on the Board of Advisors of the Annenberg Institute of Public Service at the University of Pennsylvania. She produced numerous public service documentaries for which she was nominated for an Emmy and received an ACE award, cable television's highest award for excellence in programming. She also was a recipient of the National Federation of Republican Women's "Best of America" award and was honored by the White House, California State Senate, and California State Assembly for her civic leadership.
Partner Paul Geller remembered fondly the warm relationship Sandra developed with firm clients. "Many of Sandra's clients became her dear friends, and she cherished those relationships. During the past year, I'm not sure a week went by without one of our clients asking how Sandra was doing and sending their warmest wishes to her."
Stein will be missed and remembered for making a difference in the securities litigation community. She is survived by her daughters and sons-in-law, Laura Stein and Sam Goldfeder, Leigh Stein and Joe McNamara, and by four beloved grandchildren, Michael, Sabrina, Jacob, and Blythe.
Read More Firm News
December 7, 2023

November 21, 2023

November 16, 2023

November 3, 2023

October 24, 2023