PDF
Titan of the Plaintiffs Bar: Robbins Geller Partner Shawn Williams on Making a Difference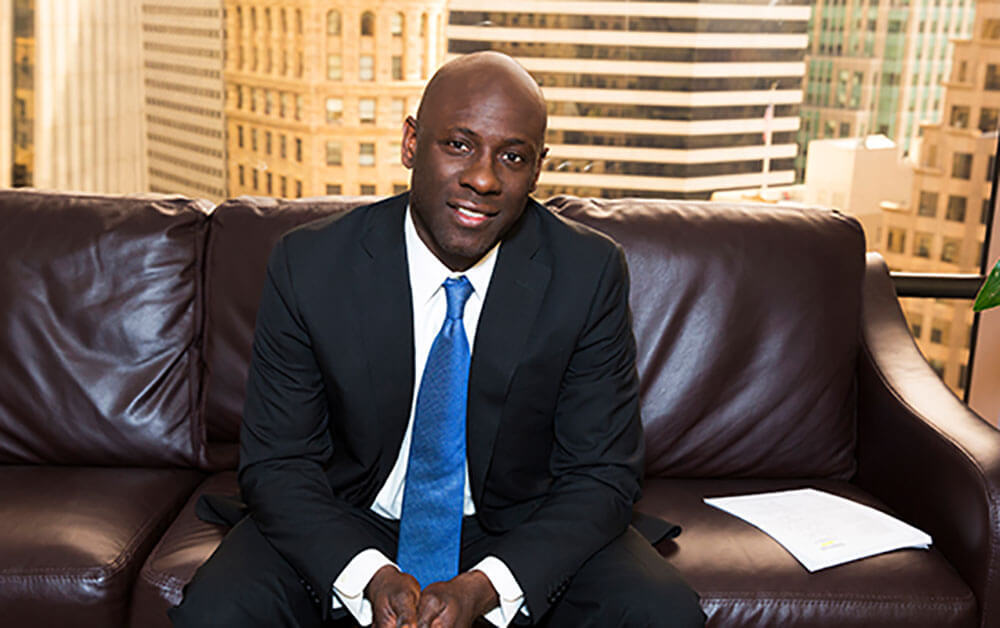 May 14, 2019
On May 14, 2019, Law360 released an in-depth interview with Robbins Geller partner Shawn A. Williams after recognizing him as a 2019 Titan of the Plaintiffs Bar. The ten attorneys who earned a spot on Law360's Titans of the Plaintiffs Bar list were chosen for being "champions in the courtroom who not only capture massive settlements and go up against [well-heeled] companies, but also take on leadership roles at their offices and elsewhere." The interview covers a wide array of topics, including why Shawn was drawn to the plaintiffs side of the bar, the reason why it is important for him to be "in the room where it happens," and some of his biggest cases.
"Growing up as the son of Jamaican and Panamanian immigrants in New Rochelle, New York, [Shawn] fantasized about being an athlete or a pilot, but his insatiable intellectual curiosity eventually led him down the path of the law," wrote Law360. "As one of the few black plaintiffs lawyers he knows of in securities litigation, [Shawn] said it was important to him to have a seat at the table that was leading the conversation, rather than reacting to it when choosing his path within the legal industry."
"There's something to be said for being 'in the room where it happens,' being in the room where decisions are made as opposed to hearing them afterward and responding to them," Shawn noted, referencing the hit musical "Hamilton" to explain what initially drew him to plaintiffs law.
After graduating from the University of Illinois College of Law, Shawn served for five years as an Assistant District Attorney in the Manhattan District Attorney's Office, where he tried over 20 cases to New York City juries and led white-collar fraud grand jury investigations. "Some friends always asked why I would want to work as a prosecutor in light of the general belief that many prosecutions, especially in big cities, unequally affect minorities and particularly black men," he said. "I always felt like if I was going to make a difference in that area, I could make a difference being on that side."
Since joining Robbins Geller nearly 20 years ago, Shawn has recovered hundreds of millions of dollars for corporations and shareholders that were victims of fiduciary failures, and has negotiated the implementation of comprehensive corporate governance enhancements. To gain a better understanding of his work, Law360 spoke with Robbins Geller partner Travis E. Downs III, who has worked closely with Shawn on numerous shareholder derivative cases.
Travis noted that while writing, arguing and analysis are some of Shawn's "strongest lawyering skills," it is what Travis calls "the intangibles" that make Shawn "about the best lawyer I know. He has this incredible sense of timing and ability to read people. I've seen him do this multiple times in negotiations; getting a person to walk themselves out on a limb and knowing when to end that conversation so you've got the high ground. It's an instinctual, situational awareness."
Shawn's lawyering skills have been put to the test in many litigations that have resulted in "major breakthroughs," seen in cases like Alibaba Group Holdings Ltd., in which he reached a $75 million settlement agreement that is currently pending final approval.
The publication also lauded Shawn for obtaining final approval of a "$43 million cash settlement from Medtronic, ending five years of securities fraud allegations over its payments to researchers to hide the risks of its bone graft technology, culminating in the loss of hundreds of millions of dollars in a 2011 stock drop."
When looking to the future of law, Shawn "expects to see an expansion in litigation revolving around the intersection of technology and the law, particularly concerning data collection and privacy." An example of this can be found in the ongoing Facebook Biometric litigation, in which "certification of the class he is representing is currently on appeal in the Ninth Circuit." The case arises out of Facebook's use of facial recognition software to extract unique biometric identifiers (i.e., graphical representations of facial features, also known as facial geometry) from photographs uploaded to its online social network.
"That case has elements of what we will see more of in the future; the cross section of law and technology, and the question of whether the law can really keep up with technological innovation," Shawn said. "That case really presents some law and technology issues that haven't really been developed yet, so we'll see how that plays out."
"I just do what I do," Shawn summarized at the end of the interview. "I believe in all of the cases that we are involved in, I believe that our clients are deserving of recovery, of some restitution, and that is motivating. Some people don't believe in their work, but I believe in my work."
Read More Awards
January 28, 2021

December 18, 2020

December 11, 2020

December 7, 2020

December 1, 2020