PDF
The Recorder Names Robbins Geller Partners Shawn Williams, Rachel Jensen and Aelish Baig as 2019 California Trailblazers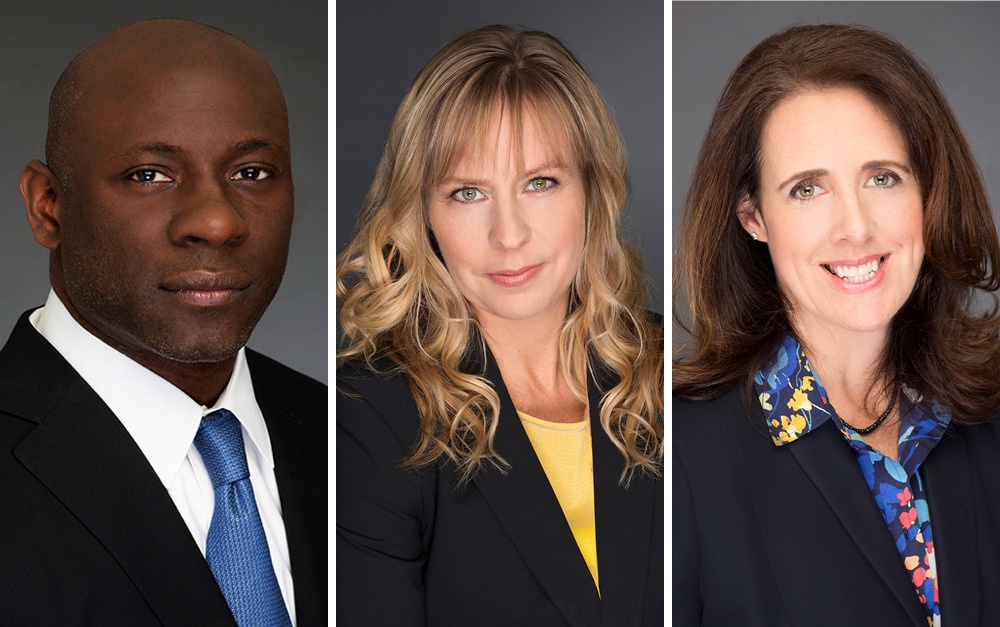 June 25, 2019
On June 24, 2019, The Recorder selected Robbins Geller partners Shawn A. Williams, Rachel L. Jensen and Aelish M. Baig to its inaugural list of 2019 California Trailblazers. The special supplement spotlights "a handful of individuals that are truly agents of change . . . [and] who have made significant marks on the practice, policy and technological advancement of their practice."
Before becoming a managing partner at the Firm, Shawn Williams served for five years as an Assistant District Attorney in the Manhattan District Attorney's Office, where he tried over 20 cases to New York City juries and led white-collar fraud grand jury investigations. Because the idea of representing shareholders in securities litigation appealed to him, he chose to change career paths and joined Robbins Geller. "It was what I thought was the right side of the law, protecting the victimized," he explained to The Recorder. Now, almost 20 years later, Shawn has recovered hundreds of millions of dollars for corporations and shareholders that were victims of fiduciary failures, and has negotiated the implementation of comprehensive corporate governance enhancements. "In other words, he's protecting the victimized," lauded the publication.
The Recorder went on to note some of Shawn's earlier work, including the "stock-option backdating scandal of the early 2000s" in which "[e]xecutives at numerous corporations had inflated the value of their stock grants by falsifying the dates they were issued. In the process, they cheated investors." Pointing out that such "broad deceptions are at the heart" of most of his cases, the publication also highlighted Shawn's work as co-lead counsel in the Alibaba Group Holdings Limited securities class action, in which he recently obtained final approval of a $75 million settlement, and the Medtronic, Inc. class action, in which just last year, he obtained final approval of a $43 million cash settlement for investors.
When looking to the future, Shawn is "currently suing Facebook in a case that he thinks will affect the areas where the law, technology and privacy concerns interact." The cutting-edge privacy case concerns Facebook's alleged violations of an Illinois consumer protection statute by collecting and storing its users' biometric identifiers without obtaining informed written consent as required by the law. "The trial judge certified the class in 2018, and Facebook appealed to the Ninth U.S. Circuit Court of Appeals," wrote the publication, pointing out that "the case has broad implications regarding the manner in which corporations collect private information from consumers and profiting from that information without the consumers' knowledge or consent."
"It's one of those issues that is going to be hotly litigated for the next decade," stressed Shawn. "I don't know if anybody really knows how all of these issues will be resolved."
For 16 years, Rachel Jensen has developed a track record of success in helping to craft impactful business reforms and recover billions of dollars on behalf of individuals, businesses, and government entities injured by unlawful business practices, fraudulent schemes and hazardous products. Naturally, she has a lot of hard-earned wisdom to impart on young lawyers looking to reach her level: "When you're preparing for a deposition, prepare as if you're taking the deposition of the next president of the United States, because you may have to live with that transcript for a long time."
"In September 2012, she did exactly that, questioning Donald J. Trump over allegations that his Trump University had defrauded its students," commended The Recorder. "Trump, four years away from his election as president, threatened to sue Jensen . . . . But the transcript of that deposition lives on, often cited as evidence of the president's uneasy relationship with truthfulness. The case, which ended when Trump agreed to pay a $25 million settlement, illustrates [Rachel]'s mission to use the power of class-action litigation to cure society's ills. 'I was always interested in how you can leverage the power of the consumer to combat very serious human rights and civil rights abuses. That's what led us to the Greyhound case.'"
In the Greyhound case, Rachel is representing California passengers against Greyhound for voluntarily subjecting its paying customers to discriminatory immigration raids. "Within five weeks, Greyhound provided some relief, announcing on its website and at its stations that passengers could be questioned about their immigration status, nationality or documentation and that they have legal rights if that occurs. Those disclosures tell consumers they have the right to remain silent, to ask an immigration agent if they are being detained, to ask for an attorney." In fact, in just a few short months, Rachel's work has forced Greyhound to change its practices, not only in California, but nationwide.
Rachel "comes by her dedication to human rights honestly," lauded The Recorder when highlighting her work before joining Robbins Geller. "Before entering private practice, focusing on plaintiffs' class actions, she worked for two United Nations tribunals that examined war crimes and genocide in Rwanda and the former Yugoslavia. She was attracted to Robbins Geller because of its representation of garment workers in the Northern Mariana Islands. Since her arrival in the firm's San Diego office, she has put that experience to work for consumers who have experienced systematic abuse, fraud or injury at the hands of large corporations and other institutions."
"I am thrilled to be in practice doing something that I had been thinking about for a very long time — the nexus between human rights and civil rights and consumer law," Rachel told the publication when discussing future explorations. "How do we leverage the power of the consumer to address very serious ills? It's not just that the widget doesn't work, it's that the widget was made by slave labor."
Aelish Baig has been at the forefront of a wide array of complex securities and consumer fraud cases for many years, and has litigated a number of cases through jury trial, resulting in multi-million dollar awards and settlements for her clients. Right after joining Robbins Geller, she "went right to work on a lawsuit against the nation's largest cell-phone companies, one of the most complex consumer-fraud cases of its time," commended The Recorder.
Aelish has also been leading the fight against those responsible for the nationwide opioid epidemic. "In one example defendants 'dumped 9 million pills into a town with just 392 residents over the course of two years. Towns that size cannot absorb that number of pills.' Scheduled for trial in October, the case is so all-consuming that [Aelish] is trying to squeeze more time out of every day; she jokes that she and her team are working '25/7,'" stated the publication, adding that "the multi-district litigation combines almost 2,000 cases from across the country and will be heard in Cleveland."
The article specifically highlights Aelish's role in the opioid litigation, which is to "show the range of impacts caused by the use of prescription opioids: not just the deaths, but also the increased costs associated with responding to overdoses, putting children in foster care, serving homeless populations and increased burdens on first responders, law enforcement and the penal system. 'It impacts everything.'"
The opioid case is often compared to the Big Tobacco litigation, in which Robbins Geller attorneys also played a major role. "But proceeds from that case's record settlement ended up funding an array of government services, many of them unconnected to the public health impacts of cigarette smoking," stated The Recorder. "With 150 opioid-related deaths in America each day, [Aelish] hopes this case is different."
"The opioid epidemic is so vast and it's not slowing down," Aelish summed up. "It's crazy, the opioid death rates increased in 2017 over 2016. It's still going up and in places where it is not, it is staying the same."
Read More Awards
January 28, 2021

December 18, 2020

December 11, 2020

December 7, 2020

December 1, 2020