PDF
The National Law Journal Names Robbins Geller Partners Paul Geller, Jason Forge and Rachel Jensen as 2018 Plaintiffs' Lawyers Trailblazers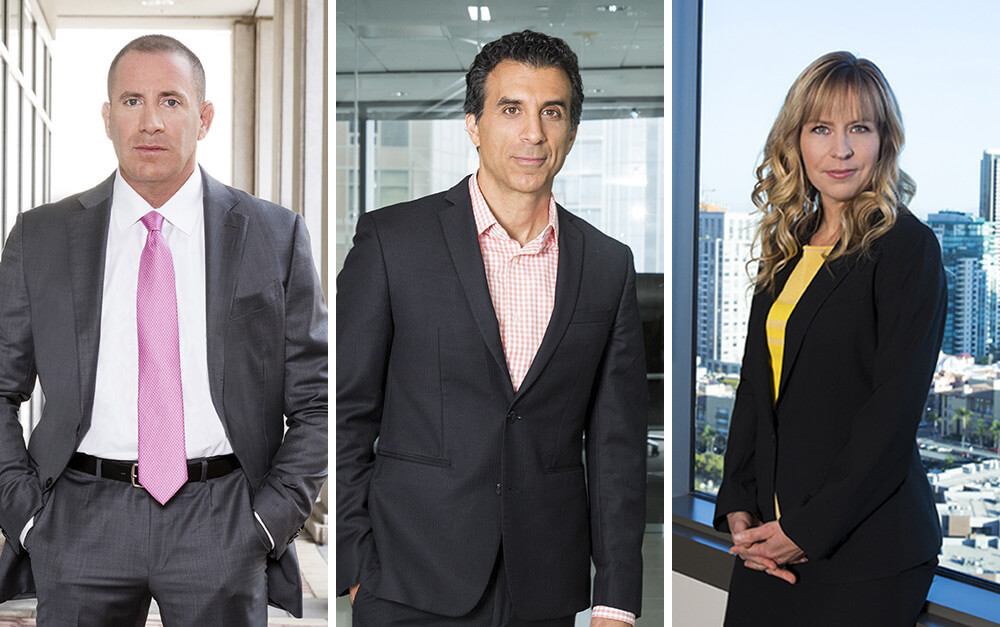 May 1, 2018
On May 1, 2018, The National Law Journal recognized Paul J. Geller, Jason A. Forge and Rachel L. Jensen as Plaintiffs' Lawyers Trailblazers for its second annual issue. The publication honors select attorneys "who continue to make their mark in various aspects of legal work on the Plaintiffs' side. . . . [E]ach has shown a deep passion and perseverance in pursuit of their mission, having achieved remarkable successes along the way." After sifting through hundreds of nominations, the publication interviewed each honoree to discover their pioneer spirits, the trails they have blazed, and what they see for the future of litigation.
Though Paul Geller has devoted his practice to the representation of consumers and investors for much of his career, he got his start by defending companies in high-stakes class action litigation. "In one of my first cases, I represented drug companies in actions brought by hemophiliacs, mostly children, who were given HIV-positive blood treatments," he told NLJ. "I realized I'd rather fight for these kids and their families. I learned a lot and worked under tremendous lawyers at that firm, but I was always more comfortable standing up to bullies than representing them."
NLJ highlights much of Geller's current litigation, including his recent work in the national opioid epidemic MDL. "I'm one of the court-appointed members of the leadership team, and also the court-appointed settlement team," he said. "Our goal is to reach a global resolution. Litigation may be the method to abate the nation's greatest national health crisis." Geller was also selected to serve in a leadership position on the Plaintiffs' Steering Committee on behalf of consumers in the massive Volkswagen "Clean Diesel" Emissions scandal. The San Francisco legal newspaper The Recorder labeled the group that was appointed in that case, which settled for more than $17 billion, a "class action dream team."
Additionally, Geller is currently taking on Mylan in the EpiPen antitrust MDL, alleging that Mylan stifled its competition and raised the price of EpiPens. "I was as outraged as anyone," Geller remarked. "It's a very meaningful case to me. When my son, who is now in college, was two years old, he ate a cashew, had a reaction and was rushed to the hospital. Since then, he has never gone a day in his life without an EpiPen nearby."
When he isn't in the courtroom, NLJ noted that Geller "works to promote diversity and the next generation of top tier plaintiffs' lawyers." Telling the publication that he wants to "help prepare the next generation of lawyers," Geller has aided in the advancement of several Robbins Geller partners, including Jensen, who was recently appointed to the leadership team of the Fiat Chrysler diesel MDL. Geller also sits on the Board of Emory University's Institute of Complex Litigation, which facilitates dialogue between judges and attorneys, including young attorneys. "You need experience and financial resources to run these cases, but younger lawyers can't get experience if they don't get appointments," noted Geller.
When discussing Wall Street being "rife with fraudsters," Geller told NLJ that he is "confident that shareholders will continue to have the right to hold Corporate America responsible for fraud" and that he expects "that traditional securities fraud will extend in the future to cryptocurrency."
Both senior partners at Robbins Geller, Jason Forge and Rachel Jensen have unique professional backgrounds that have shaped them into the attorneys they are today. For instance, Forge spent most of his career as a federal prosecutor. "I liked the challenge of being the aggressor and investigator trying to flesh out wrongdoing. The most righteous targets were those who had the power to get away with it," Forge told the publication. "When I decided to go into private practice, my goal was to continue to aggressively and creatively prosecute righteous fraud cases."
Jensen "studied international human rights law and spent a year in Tanzania and the Netherlands working for the Prosecutor at the UN tribunals." She explained, "The work I did at the tribunals was at the cutting edge of establishing that sexual violence can be genocide and raised profound questions about the limits of human power and rights. But I didn't want to live the expat life, so I found plaintiff-side firms that took on human rights cases here in the U.S. Now I prosecute fraud cases against large corporations."
Forge and Jensen were "two of the lead attorneys who secured a global settlement of $25 million for former Trump University students in two class actions against President Donald J. Trump and his eponymous 'university.' The Ninth Circuit recently affirmed Judge Curiel's approval of the settlement, commending Robbins Geller's 'admirable' work." Robbins Geller litigated the case pro bono, allowing maximum recovery to plaintiffs and class members.
"One of the misperceptions is that the case was politically driven," Jensen clarified. "But when the case started in 2010, Trump wasn't a politician. The case did not become daily headline news until it was lobbed around on a Republican primary debate stage six years later."
Though Forge's involvement was supposed to be temporary, his role quickly changed after deposing a former student. "I really felt she had been manipulated. I called [Jensen] and told her that we should bring a RICO claim. A few months later, we started a whole new case with a single RICO claim that enabled us to bring together a nationwide class."
When it comes to the future of litigation, Geller, Forge and Jensen all see a great need to expose the truth. "There may be efforts to curtail the rights of shareholders, but I'm confident that shareholders will continue to have the right to hold Corporate America responsible for fraud," noted Geller.
"I totally understand why the public is so frustrated with the legal profession," Forge said. "I shake my head every day at lawyers' arguments, which are typically designed to prevent or postpone answers to a very simple question: 'What really happened here?' But with that frustration comes even more motivation to expose the truth. It's not easy, but it wouldn't be rewarding if it was."
Read More Awards
January 28, 2021

December 18, 2020

December 11, 2020

December 7, 2020

December 1, 2020