PDF
Robbins Geller Attorneys Jerry Martin, Christopher Wood, and Christopher Lyons Named 2019 Super Lawyers and Rising Stars for the Mid-South Region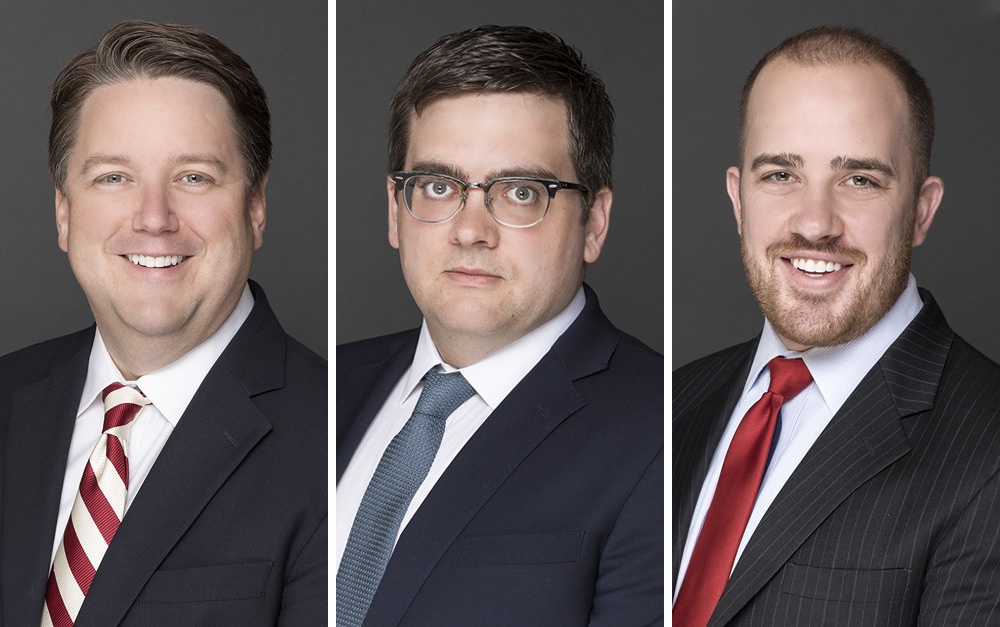 November 5, 2019
On November 5, 2019, Super Lawyers Magazine named Robbins Geller attorney Jerry E. Martin a 2019 Super Lawyer, while attorneys Christopher M. Wood and Christopher H. Lyons were both named as 2019 Rising Stars.
This recognition marks the fourth consecutive year that Jerry Martin has been named a Mid-South Super Lawyer. Recognized as a national leader in combatting fraud, Jerry has addressed numerous groups and associations, such as Taxpayers Against Fraud and the National Association of Attorneys General. Jerry, who previously served as the presidentially appointed United States Attorney for the Middle District of Tennessee, helped resolve a False Claims Act case against skilled nursing home provider Signature Healthcare, LLC, in which two whistleblowers alleged that Signature was involved in a scheme to artificially inflate its Medicare reimbursement by providing unnecessary physical, occupational, and speech therapy to nursing home residents. The case resulted in a $30 million settlement. He also was a key member of the litigation team that successfully obtained a $2.71 million settlement to resolve whistleblower allegations of Medicare billing fraud in the Innovative Therapies case. Along with a team of Robbins Geller attorneys, including Christopher Wood, Jerry also obtained a $65 million recovery in the securities class action lawsuit Garden City Employees' Retirement System v. Psychiatric Solutions, Inc. The result represents the fourth largest securities recovery ever in the Middle District of Tennessee and the largest in more than a decade.
Marking the eighth time that Robbins Geller partner Christopher Wood has been selected as a Rising Star in the Mid-South or Northern California Region, he has been a member of numerous litigation teams responsible for recovering hundreds of millions of dollars for investors in Tennessee, as well as across the globe. In addition to Psychiatric Solutions, Chris also helped achieve a $265 million recovery for shareholders in In re Massey Energy Co. Sec. Litig., an action alleging that Massey's executives made false and misleading statements regarding its commitment to safety prior to the tragic Upper Big Branch Mine Disaster. Additionally, he was a key member of the litigation team that successfully obtained a $95 million recovery in In re VeriFone Holdings, Inc. Sec. Litig., one of the largest securities class action settlements ever achieved in the Northern District of California.
As the second time that he has been recognized as a Rising Star, Christopher Lyons represents institutional and individual investors in merger-related class action litigation and in complex securities litigation. Chris has been a significant part of litigation teams that have achieved substantial recoveries for investors, including Good Technology ($52 million recovered for investors in a privately held technology company), Calamos Asset Management (up to $30 million recovered), and BancorpSouth ($13 million recovered). His pro bono work includes representing individuals who are appealing denial of necessary medical benefits by TennCare (Tennessee's Medicaid program), through the Tennessee Justice Center.
Super Lawyers, an affiliate of Thomson Reuters, recognizes attorneys who have distinguished themselves for their high degree of peer recognition and professional achievement in their legal practices. Each year, no more than 5% of lawyers are honored as Super Lawyers, and 2.5% are named as Rising Stars in each state. Annual selection is made through a statewide survey of lawyers, independent research evaluation of candidates, and peer reviews within each practice area. The Super Lawyers lists are published nationwide in Super Lawyers Magazine, as well as leading city and regional magazines and newspapers across the country. A full description of the methodology behind Super Lawyers' selection process can be found on its website.
Read More Awards
January 28, 2021

December 18, 2020

December 11, 2020

December 7, 2020

December 1, 2020